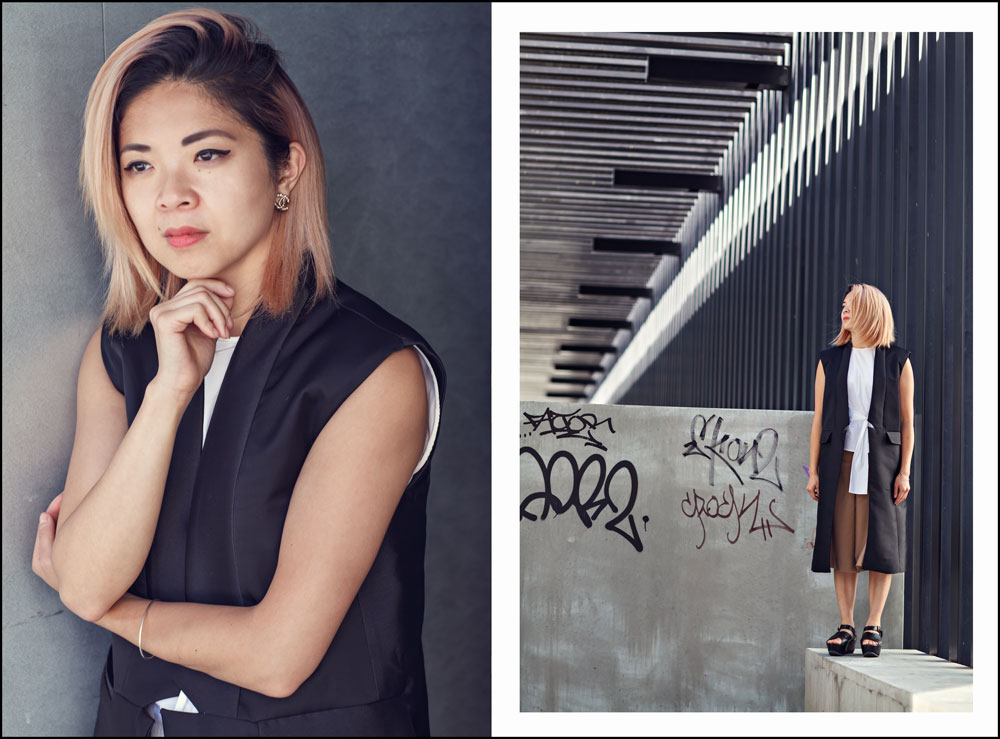 Image by Vincent Calderon @your_ensemble
Street, Lifestyle and Fashion Photographer / Business Entrepreneur / Creative Consultant / WGSN Trend Forecasting Contributor
Australian Born Chinese – Karen Woo is a savant creative talent who is fast becoming one of Melbourne's sought after street style, lifestyle and fashion photographer.
Having graduated from a Science degree and Masters of Business Systems, and worked amongst the world's leading Federal Government, Energy and Financial institutions as a Senior Business Consultant for 8 years, she took a leap of faith and pursued her dream career as a Photographer and successfully opened her first photographic studio in year 2011 specialising in weddings and portraits.
Karen has 7 years of solid business and photography experience, and is the current resident photographer for the popular fashion influencer, What Would Karl Do. She contributes to WSGN Fashion Trend Forecasting agency and has worked with international fashion brands like Charles and Keith; and covered street style photography Mercedes-Benz Fashion Week Australia 2014, 2015 for Iconic Australia and Boohoo.com. Karen's work has been featured on various online fashion blogs, media and print: Louboutin World Instagram, Khloe Kardashian Facebook Fanpage, H&M Facebook Fanpage, Marie Claire (Netherlands), Boohoo.com, Buzzfeed.com (Manhattan, New York), Cosmopolitan Australia, Famous, Bonds & Me blogsite, Fashionising.com, Style Magazine, Articles of Style and Fashionisto. She has also won numerous photography awards such as the Honours Associate Photographer award for the Australian Institute of Professional Photography (AIPP) 2013, two AIPP Silver awards 2013; and three AIPP Silver awards 2012. Karen was also chosen as one of the 15th national finalists for Target Australia in search for the face of #PetitePosse and walk the Target runway at VAMFF2015.
Karen is passionate not only about photography but about family life, muay thai, food and travelling; always seeking to capture stories of people's lives and experiences through imagery in a stylistic way.

Clients
Ballettonet, Boohoo.com, Bobbi Brown x Business Chicks, Calibre, Charles and Keith Official, Collins234, IYA Swimwear, EC-Group, Fashion on Top, FRM Modelling Agency, Madam Virtue & Co., Melbourne Central, Mercedes Benz (World-Wide), Peter Jackson, Roar Accessories, Strugnellcole Hairdressing, Spalding Women, St Kilda Football Club, Style Counsel, Trunk Tailors, Werribee Plaza, WGSN
Brand Collaborations
American Apparel, Bonds Australia, Bryan Boy, H&M Australia, Kardashian Kollection, Laer Kids, Leonard Joel Auctions, Milk & Soda, Micky in a Van, Melissa Australia, River Island, Reiss, S.Wallis, Target Australia, Very Special Kids Australia.
Magazine and Online Publications
Articles of Style, Cosmopolitan Australia, Marie Claire Netherlands, Marie Claire Netherlands, Famous, Fashionisto, Bonds Blogsite, Fashionising.com, Australian Fashion Guide and Coiffure De Paris Magazine, Yahoo! Beauty.

Testimonials
" In my five years in the Melbourne fashion scene, I have worked with many high profiles photographers such as Candice Lake, but none are as professional, friendly and with a really creative and fashionable eye like Karen. Evey single time we collaborate, I am always thrilled with the outcome. Her creative eye sets her apart from the rest and her honesty and experience in working with models, ensures my time on set is efficient and makes me feel confident to trust in her abilities. You just need to look at her photos to see just how good she really is. The key to the success of my blog is the photography and I have no hesitations in saying that Karen has helped me to be where I am today in my fashion blogging career. I see big things for Karen, and I am honoured to say that I was with her from the beginning of her journey. "
Jess Dempsey, MSFW2014 Influencer, What Would Karl Do
" I hired Karen to shoot street style for a client after stumbling across her Instagram, and was so blown away with the work she delivered! She has impeccable taste and working with her to co-ordinate the shoot was smooth and simple. "
Brodie Lancaster, Editor, The Good Copy
" From the moment we met with Karen we knew she understood our vision and she did an amazing capturing this. We had two day action packed days on location with Karen, her energy and creativity was contagious and we can't wait to work with her again. "
Stevie Dellamarta, Head of Marketing & Events of St Kilda Football Club
" Karen is sooooo enthusiastic and energised. It was a really fun shoot. She also makes you feel relaxed and comfortable. Karen was very prepared and followed the direction that I had set. She created a mood board and referenced the images I'd put together in the brief. She worked tirelessly the whole time and was really patient and open to ideas. The shoot I did with Karen ended up being used to promote the release of my new EP. "
James Varnish, Electropop Musician
" Hi there miss Karen. So I was at the agency today and Maxi and the Agent Director of FRM Model Management LOVED your pics. Well done. You made me look like a superstar

"
Rheis Kasteel, Model/Actor represented by FRM Model Management
" Karen and I met six years ago when I first started my business. I am so grateful for the day she walked into my life. Karen not only takes the most beautiful photographs but she is also the most easiest to work with. She is always bright and sunny, whilst professional and suggesting great ideas and provides great feedback. Karen also gives great direction to the models when required but always takes photos that are natural as possible. She has helped me so much with my business by showcasing my work at its best and always me with the best of her connections so I can advance further. I only hope that anyone who needs a photographer is lucky to find Karen as she is just an amazing person inside and out and absolutely fantastic at what she does. Her passion is just palpable. Much love you to my dear!! xxx "
Aimmey Pham, Miss Aimmey Hair & Makeup artist
" Although I'm not a model, I have done a number of photo shoots through my life as a professional musician. As a photographer, I'd say that Karen Woo is beyond great. Karen is a cut above in her professionalism and abilities. I was simply stunned by the quality of her photographs and never have dreamed that someone could produce such amazing work. She is very easy to work with and put me completely at east. I have no hesitation to recommend her based on her incredible talent and expertise. "
David Willerdorf, Singer/Song Writer