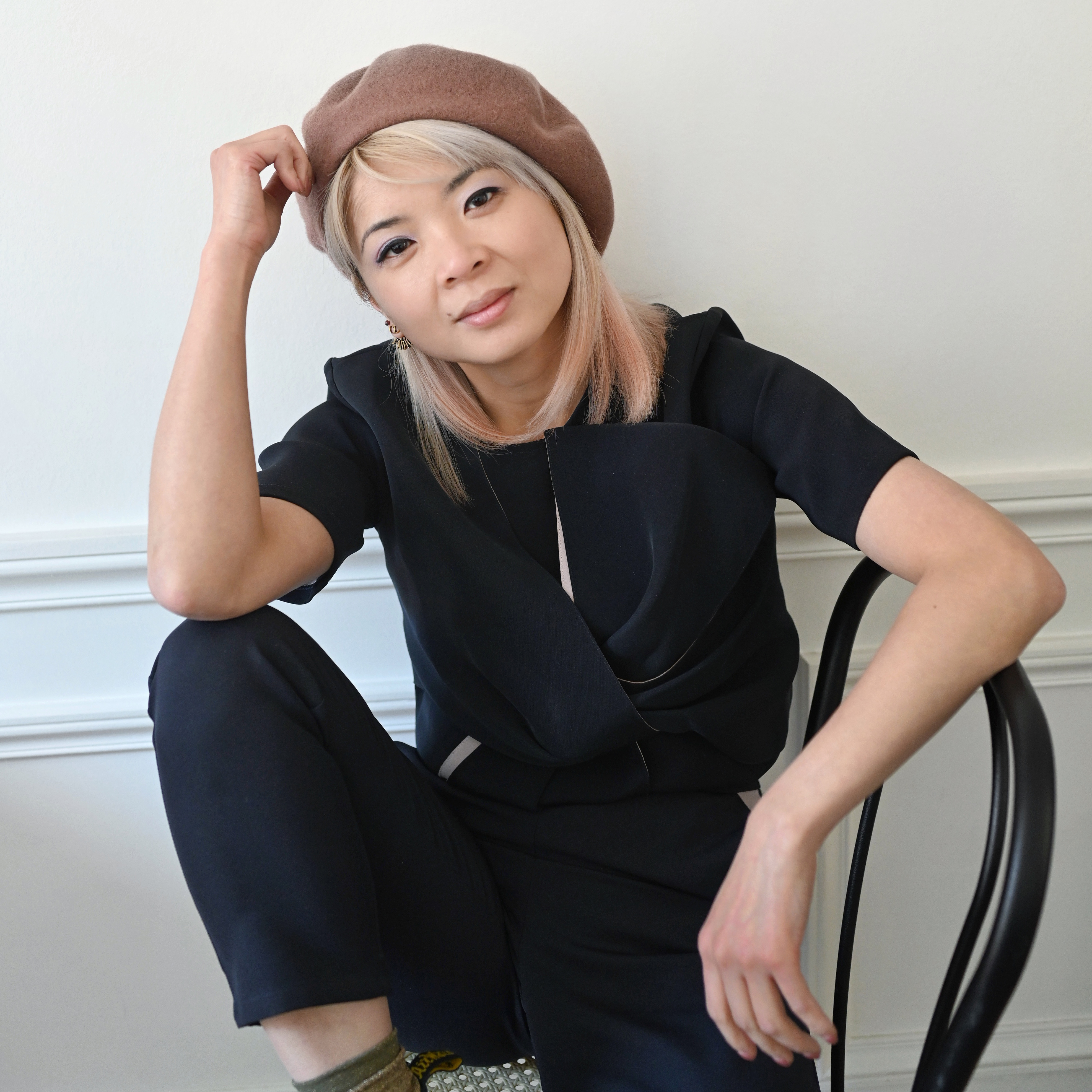 Creative Director, Fashion Photographer and Film Maker.
Nikon Australia and Profoto Global Partner.
Karen Woo (@heykarenwoo) is one of Australia's sought after fashion photographer and film marker, and Co-founder of STYLEBK.
After graduating from Bachelor of Science and Masters of Business Systems at Monash University, Karen worked as a Senior Business Consultant for 8 years ranging from Federal Government to Financial Institutions. In 2011, she took a leap of faith and pursued her dream career as a Photographer; and successfully opened her first photographic studio Finessence Photography – specialising in wedding and portraits.
By chance on a visit to a luxury vintage store at Madam Virtue she bought a timeless Chanel clutch. Upon paying, the owner Dean Hewitt and Karen started chatting about their obsession with haute couture and accessories, and Karen's photography was brought up. Without any hesitation, Dean invited Karen to an exclusive photo shoot the following day with famous Fashion Blogger – Bryan Boy.
From that kismet visit at Madam Virtue, and overwhelming support of her family and fashion friends, Karen moved on from capturing wedding and portraits to solely focus on creating street style, fashion editorials and campaign work. This transition has resulted in partnering with photography brands like Nikon Australia and Profoto Global. She has recently completed projects with international and local brands such as Nikon Australia, Vogue Australia, Lexus, Bally and Samsonite to name a few. Along with capturing international events such as Paris Fashion Week, London Fashion Week, New York Fashion week and even shooting in her hometown at Melbourne Fashion Week.
Karen has also partnered with Mercedes-Benz World Wide and St Giles Hotels, Be Central campaign. She was also chosen as one of the 15th national finalists for Target Australia in search for the face of #PetitePosse and walk the Target runway at VAMFF2015.
When Karen isn't working on her next creative project, you will find her with family and friends, travelling, cooking and smashing the Muay Thai gym.

CLIENTELE
A curated list of Australian and Global brands Karen has partnered with:
Magazine and Online Publications

Articles of Style, Australian Fashion Guide, Black Barrett, Bonds, Boyfriend Magazine, Coiffure De Paris Magazine, Cosmopolitan, Australia, Famous, Fashionisto, Fashionising.com, Farfetch UK, Gmaro Magazine, Marie Claire Netherlands, Net-a-Porter, Nikon Australia, Plaza Uomo, The Collective Hub, The Rake Japan, Vogue Australia, Vogue Italia, Yahoo! Beauty.

Client Testimonials
"I am very grateful to have worked with Karen Woo recently for our Shop the City campaign. Karen's approach to her work, the level of thought and expertise she brings, and the team she assembles, is nothing short of incredible. We have enjoyed a very productive and open relationship, resulting in fantastic outputs, achieved in tight timeframes facing a number of challenges. I look forward to working with Karen and her team again in the future."
Callum Wood, City Marketing Manager, City Marketing and Corporate Affairs
—
"It is without hesitation that I recommend Karen Woo and her incredible team. Karen is an incredibly gifted photographer and human being. Insightful, creative and motivational when working on several assignments for us at Sofitel.
Since partnering with Karen and her team on our National Gallery of Victoria, Dior Fashion Cocktail shoot, we achieved over 1,517 cocktails sold an increase of 35% in our total beverage sales and I contribute this to Karen's eye to take images that delights the audience and entices them to purchase. The success of the campaign has also been recognised in Vogue Australia magazine, social media as well as Vogue Japan. I would without any reservation recommend Karen to you."
Evan Hinrichsen, Head of Communications & Marketing, Sofitel Melbourne on Collins
—
"Karen is an absolute delight to work with. She innovative and creative and always goes above and beyond to ensure a excellent result.  Karen brings a great energy to all of her projects which shines through in the photography and videos that she produces. I couldn't recommended her highly enough."
Anna Baird, Founder, Bared Footwear 
—
"Karen Woo is a gem. I wanted to use Karen because I knew her by reputation and on the occasions our paths had crossed, I found her to be a really genuine girl and someone who was really passionate about her craft! We discussed my target customer, my creative direction and she took on board all my opinions, but then she added so much more. From recommending lighting, colour palette and poses to coming along and checking the location before our shoot, she was able to build on my ideas with her creativity and experience to create far more powerful images than I had imagined. She is well prepared and super focused. And who doesn't love working with someone who finished a full day shoot with 30 mins to spare!
Karen's results speak for themselves, our campaign images tell you that, but in particular, I would recommend Karen to someone like me, who lacks experience! Her experience and manner mean that you'll get excellent results. And I think I can speak for the whole team and say that – when it comes down to it – if you've got to hang about for a whole day at a shoot – pick a cool chick that makes it a fun day for all!"
Sarah Darby, Fashion Designer & Illustrator, One of a Kind Denim
—
"Just wanted to say a very sincere thank you for your generosity in talking to my Freelance Services class tonight. We all thought you were fantastic and gave very important and valuable insights into the industry – so thank you very much! I am particularly impressed with your careful management of social media, your wonderful work ethic and your ability to work with all people – and I am really happy you took the time to answer all questions from my students. Thank you again – it was greatly appreciated by all of us."
Chris Hillard, Applied Photography Lecturer, Melbourne Polytechnic
—
"We've been working with Karen for over three years now and she's been instrumental to the success of our content strategy. Karen understands the requirements of our brands and produces content tailored to each brand's strategy. Her photography and creative direction has enabled us to elevate our brands and market them to more premium audiences. Whether it's content for catalogues, POS, websites or social media, Karen's eye for style and detail ensures our ad creative is engaging and high quality."
James Revell, Social Media Coordinator, Samsonite Australia
—
"Karen was amazing to work with. From being really easy-going to her professional work ethics, working with her was a breeze. The work that came out was nothing short of stellar! "
Nelson Yap, Managing Director, Benjamin Barker Aust Pte Ltd
—
"We want to thank you for your amazing ability for capturing the essence of our products in such an enchanting way! Having worked with you and your team on our recent timepiece launch, you have certainly exceeded our expectations and we found this experience with you extremely unique. I would high recommend your services to anyone who is looking for a talented, professional fashion photographer who is a joy to work with, and has the ability to put you at ease, while we focus on other aspects of the campaign. Thank you again for everything."
Frances Tho, Founder and CEO, Christopher Frost Timepieces
—
"It was a pleasure teaming with Karen Woo for the St Giles 360 campaign. We were drawn to her because of her style of photography and from the moment we connected, I was inspired by and appreciated her professionalism, sense of authenticity, and enthusiasm for the campaign. She fully engaged her community in the campaign and played a key role in extending its reach. I highly recommend Karen Woo and look forward to teaming with her on future projects. "
Venicia Gaul, Piranha New York City
—
"It was a wonderful experience working with Karen, who was very meticulous in planning the shoot and made sure to keep us updated in all aspects of the shoot, both of which we really appreciate. We love her eye for photography and what she produced for us! We look forward to seeing more of her great works. "
Kimberley Kok, Head of Marketing, Social Media of Charles and Keith International
—
"In my five years in the Melbourne fashion scene, I have worked with many high profiles photographers such as Candice Lake, but none are as professional, friendly and with a really creative and fashionable eye like Karen. Evey single time we collaborate, I am always thrilled with the outcome. Her creative eye sets her apart from the rest and her honesty and experience in working with models, ensures my time on set is efficient and makes me feel confident to trust in her abilities. You just need to look at her photos to see just how good she really is. The key to the success of my blog is the photography and I have no hesitations in saying that Karen has helped me to be where I am today in my fashion blogging career. I see big things for Karen, and I am honoured to say that I was with her from the beginning of her journey."
Jess Dempsey, What Would Karl Do
—
"I hired Karen to shoot street style for a client after stumbling across her Instagram, and was so blown away with the work she delivered! She has impeccable taste and working with her to co-ordinate the shoot was smooth and simple."
Brodie Lancaster, Editor of The Good Copy
—
"From the moment we met with Karen we knew she understood our vision and she did an amazing capturing this. We had two day action packed days on location with Karen, her energy and creativity was contagious and we can't wait to work with her again. "
Stevie Dellamarta, Head of Marketing & Events of St Kilda Football Club
—
"Karen is sooooo enthusiastic and energised. It was a really fun shoot. She also makes you feel relaxed and comfortable. Karen was very prepared and followed the direction that I had set. She created a mood board and referenced the images I'd put together in the brief. She worked tirelessly the whole time and was really patient and open to ideas. The shoot I did with Karen ended up being used to promote the release of my new EP."
James Varnish, Electropop Musician
—
"Karen and I met six years ago when I first started my business. I am so grateful for the day she walked into my life. Karen not only takes the most beautiful photographs but she is also the most easiest to work with. She is always bright and sunny, whilst professional and suggesting great ideas and provides great feedback. Karen also gives great direction to the models when required but always takes photos that are natural as possible. She has helped me so much with my business by showcasing my work at its best and always me with the best of her connections so I can advance further. I only hope that anyone who needs a photographer is lucky to find Karen as she is just an amazing person inside and out and absolutely fantastic at what she does. Her passion is just palpable. Much love you to my dear!! xxx "
Aimmey Pham, Miss Aimmey Hair & Makeup artist
—
"Although I'm not a model, I have done a number of photo shoots through my life as a professional musician. As a photographer, I'd say that Karen Woo is beyond great. Karen is a cut above in her professionalism and abilities. I was simply stunned by the quality of her photographs and never have dreamed that someone could produce such amazing work. She is very easy to work with and put me completely at east. I have no hesitation to recommend her based on her incredible talent and expertise."
David Willerdorf, Singer/Song Writer