Couturing x Friend in Fashion, 17 March 2015
Karen Woo's street style images and cameo appearance in VAMFF 2015 Day 2 film @ 1.46 minutes …

Target Australia, Danni Minogue's #petitespossecollection, 14 March 2015
Karen Woo was chosen as one of the lucky 15th national finalists for Target Australia in search for the face of #PetitePosse and walk the Target runway at VAMFF2015.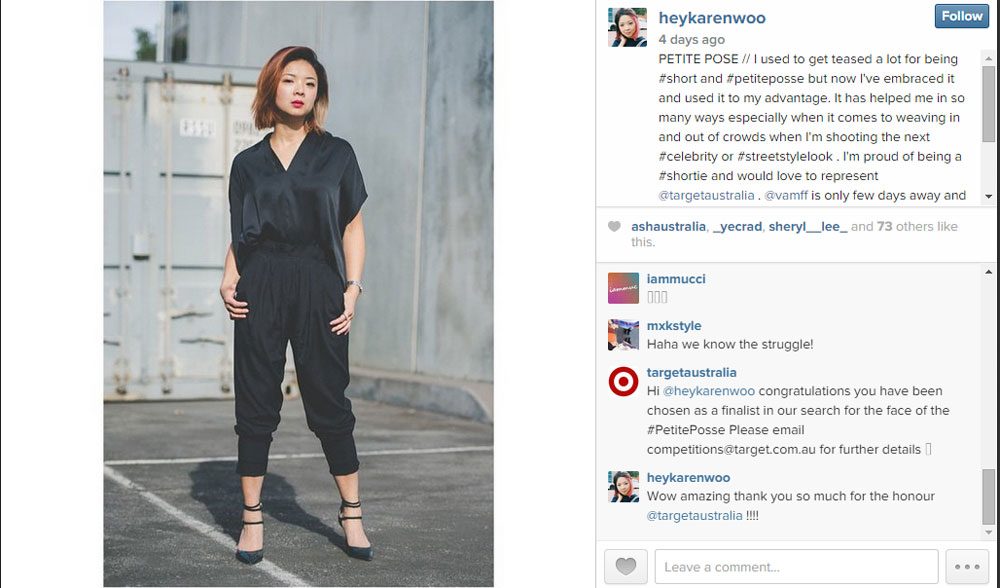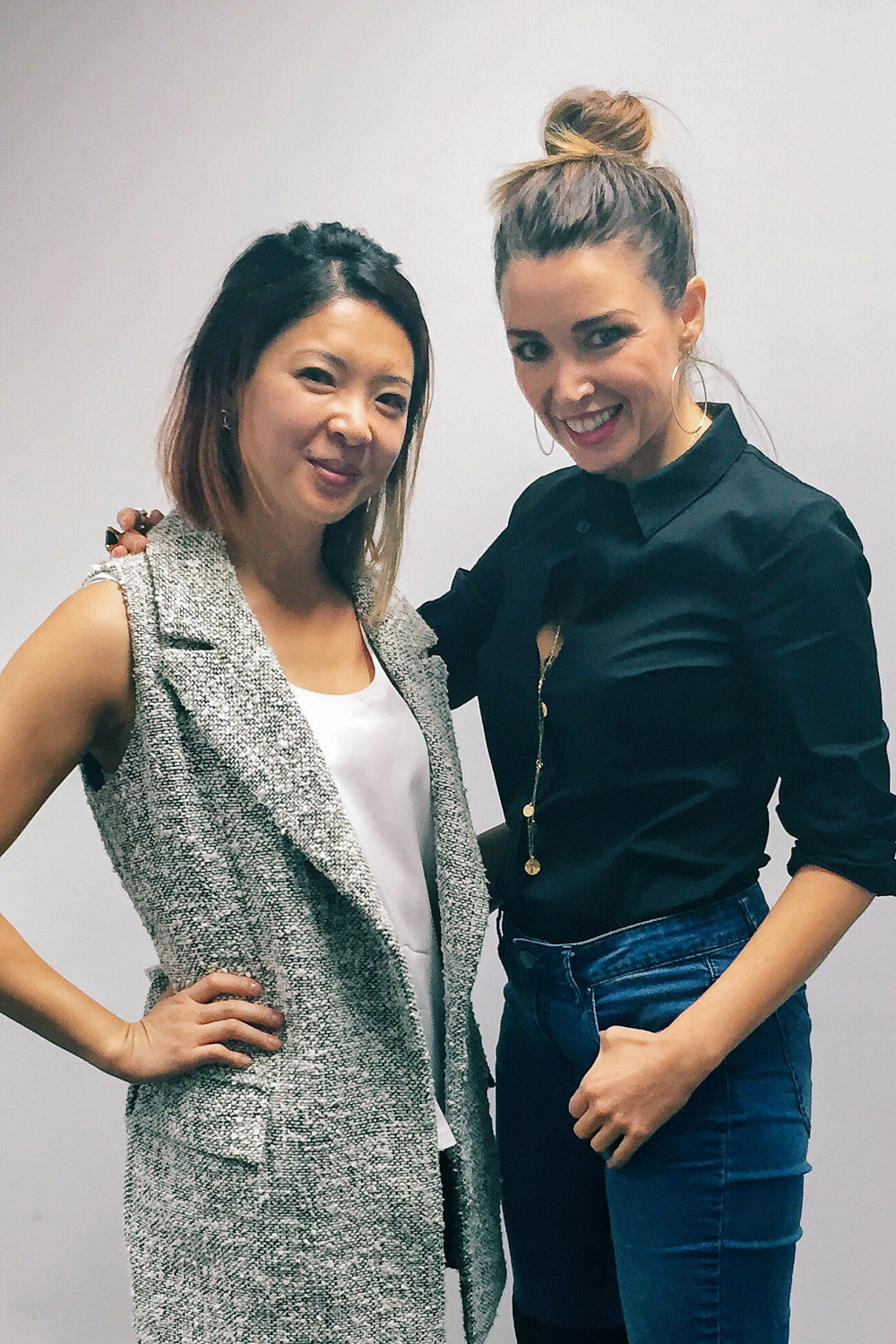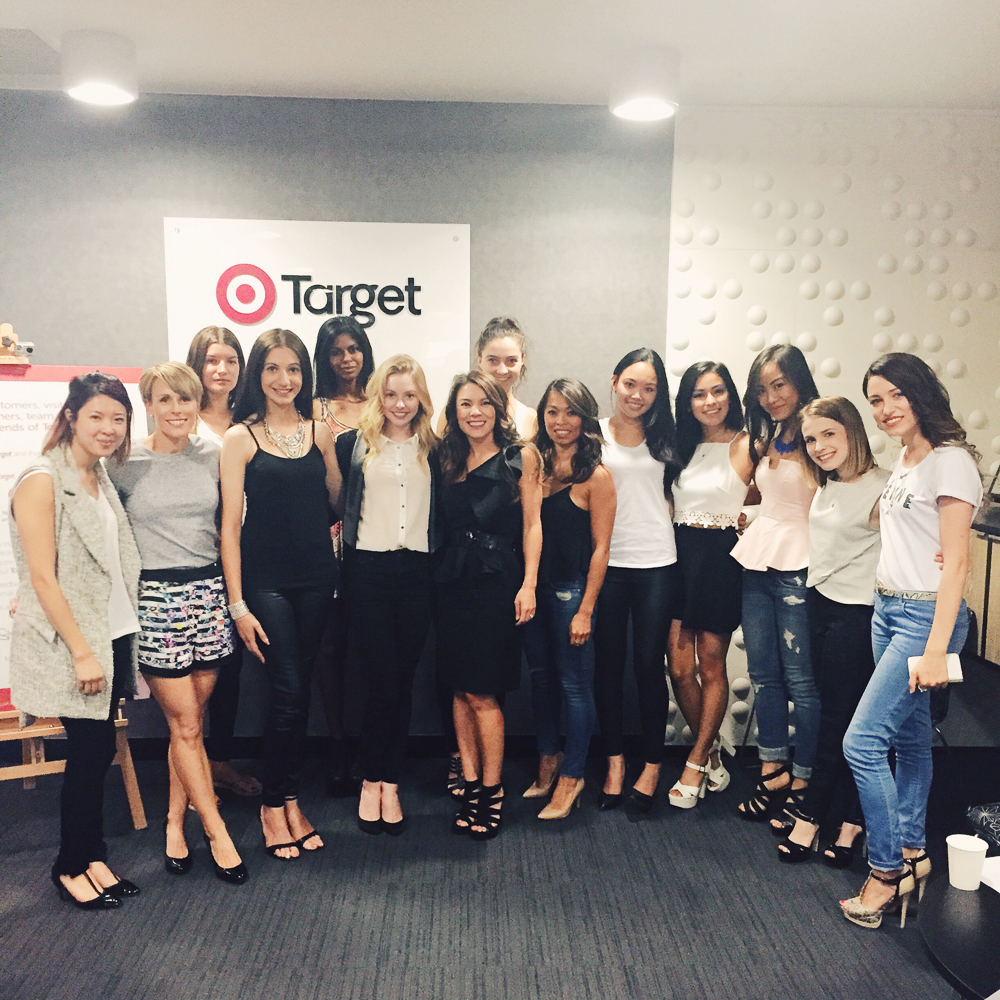 Karen Woo's work has been featured on various online fashion blogs, media and print: Louboutin World Instagram, Khloe Kardashian Facebook Fanpage, H&M Facebook Fanpage, Marie Claire (Netherlands), Boohoo.com, Buzzfeed.com (Manhattan, New York), Cosmopolitan Australia, Famous, What Would Karl Do blogsite, Bonds & Me blogsite, Covet Magazine, Fashionising.com, Style Magazine and Australian Fashion Guide.

Christian Louboutin Instagram (@Louboutinworld) (November 2014)
3.4M Followers. 96.5K Likes on my image of "His and Hers at #DerbyDay in Australia"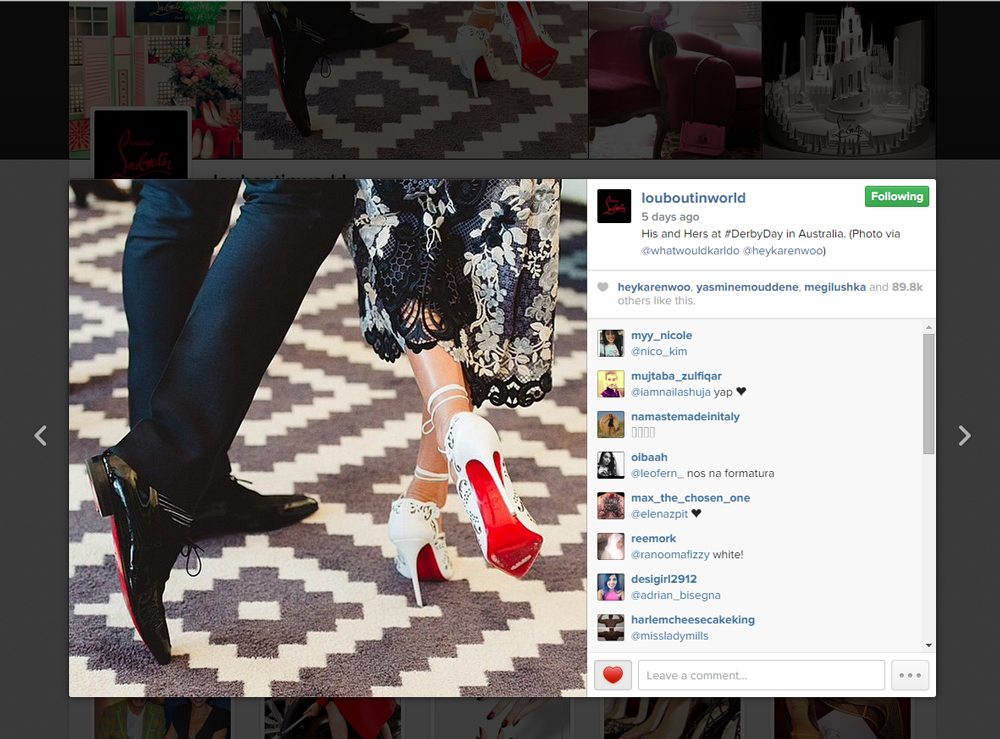 Khloe Kardashian Fanpage (www.facebook.com.au/khloekardashian) (January 2015)
12,983,422 Followers, 10,416 Likes on my Bridgette Bardot inspired photoshoot with What Would Karl Do.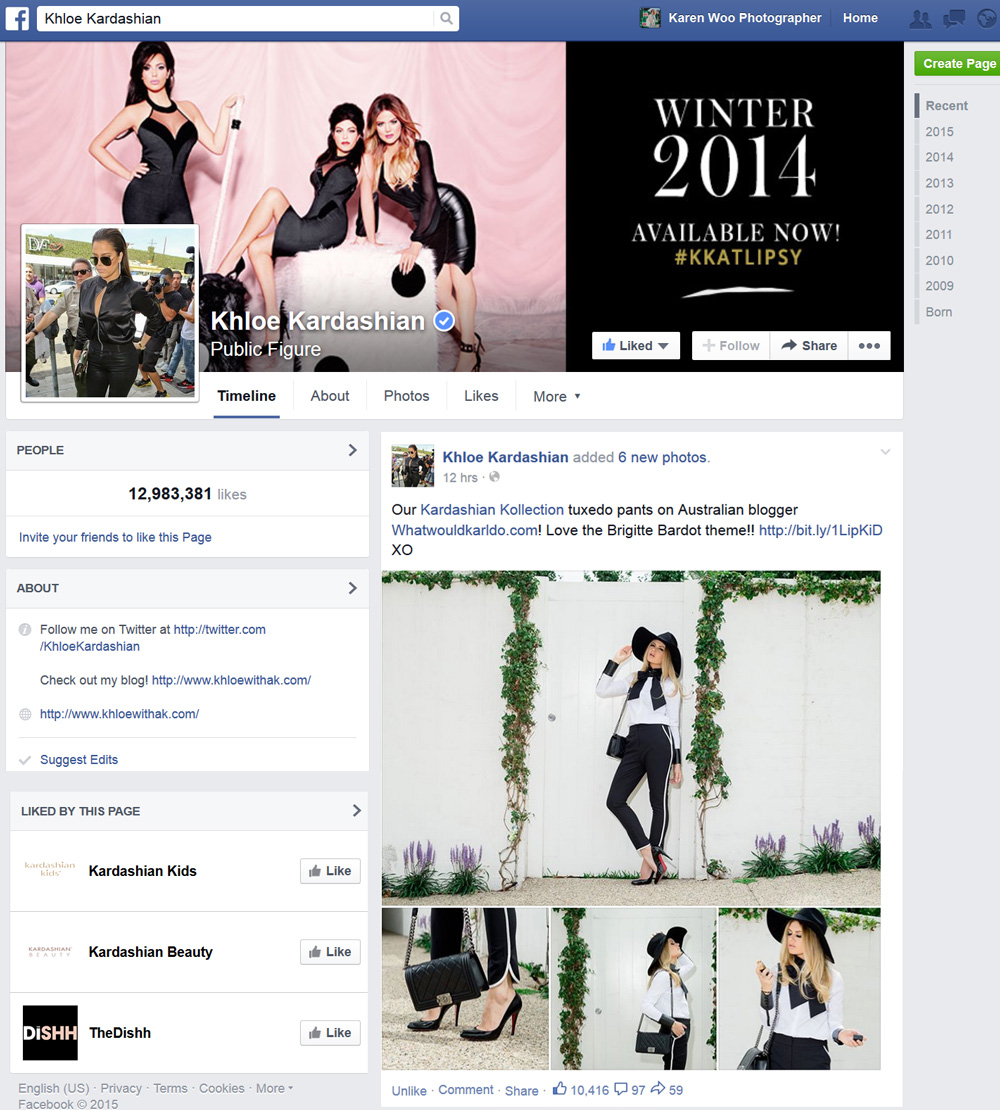 Style Magazine (25th of February 2015)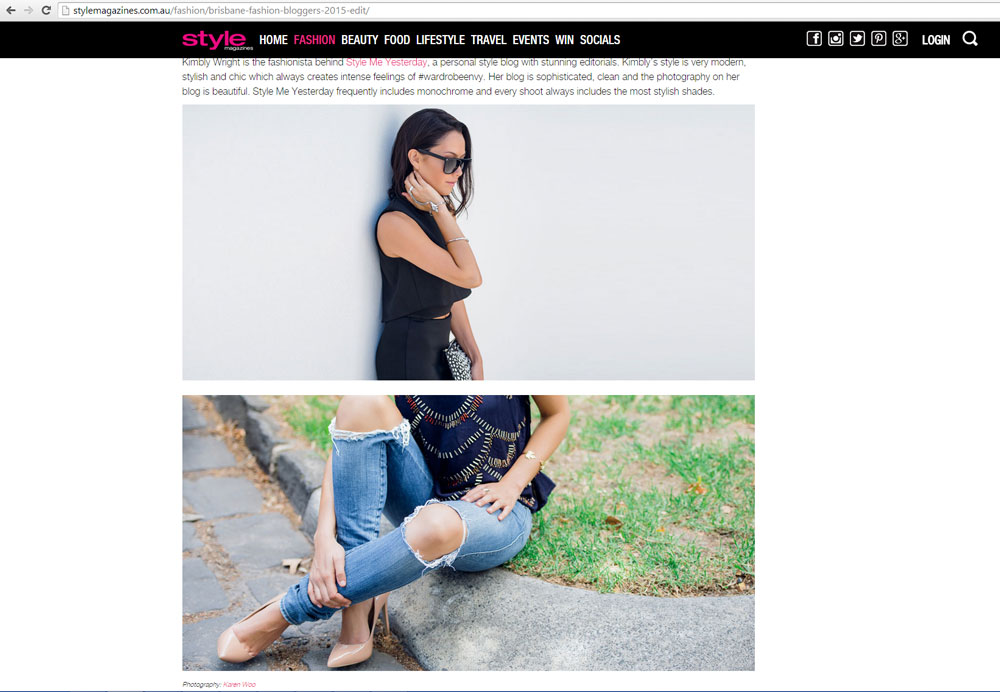 James Varnish as featured in one of Melbourne's most popular entertainment website, The Aussie Word, September 2014.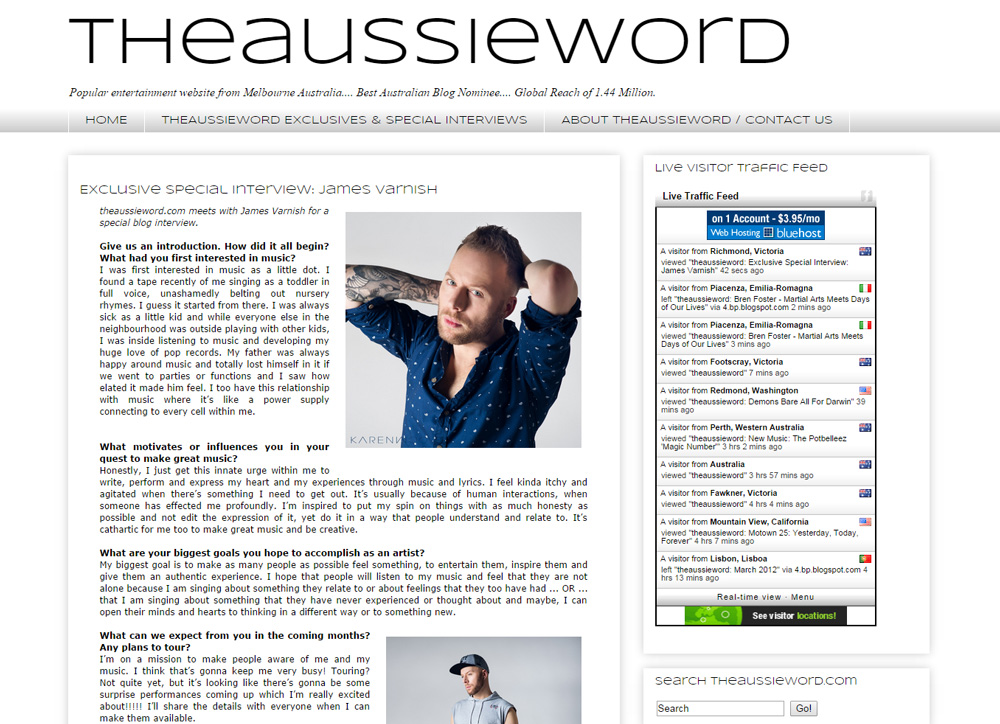 Boohoo.com, Exclusive Street Style Photographer for Boohoo.com for MBFWA2014 (April 2014)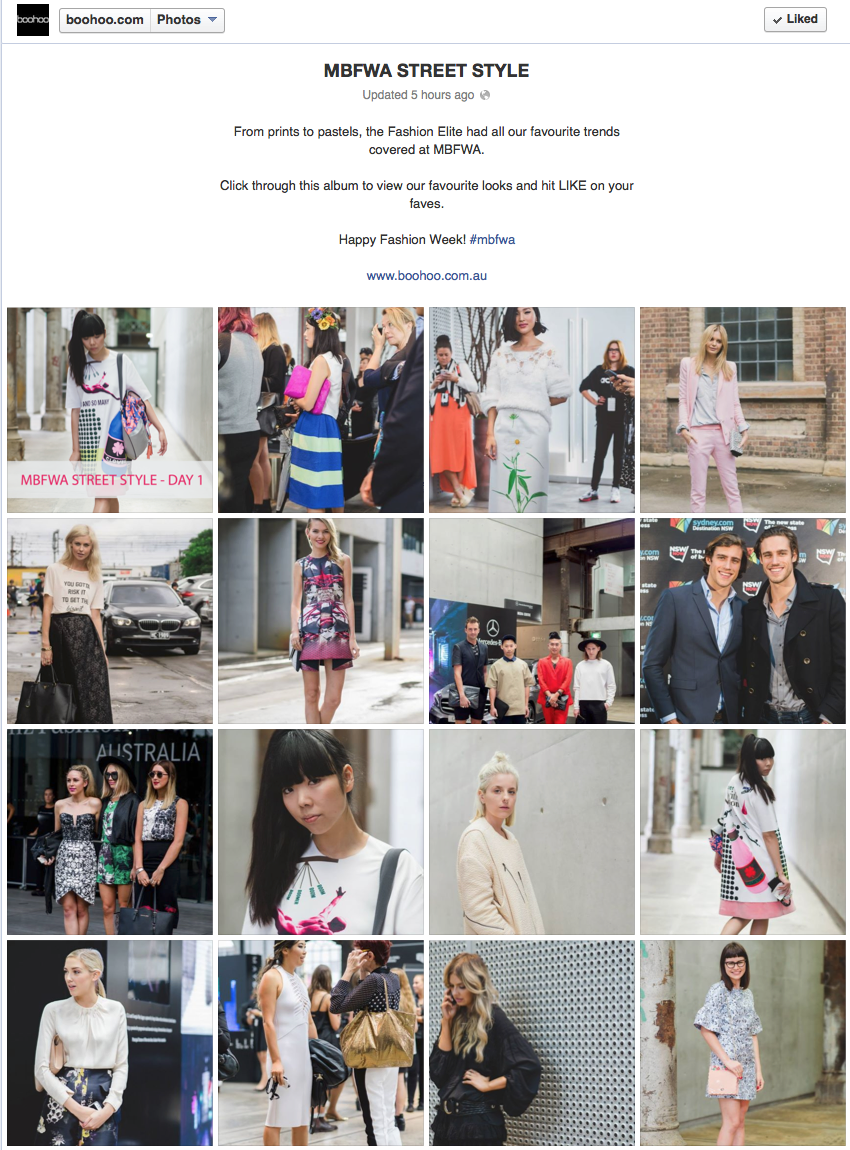 Marie Claire (September 2013)
Full post here: http://fashionphotographymelbourne.com.au/going-international-on-marie-claire-netherlands/

The Modern Lady editorial shoot as featured in Fashionising.com 2012.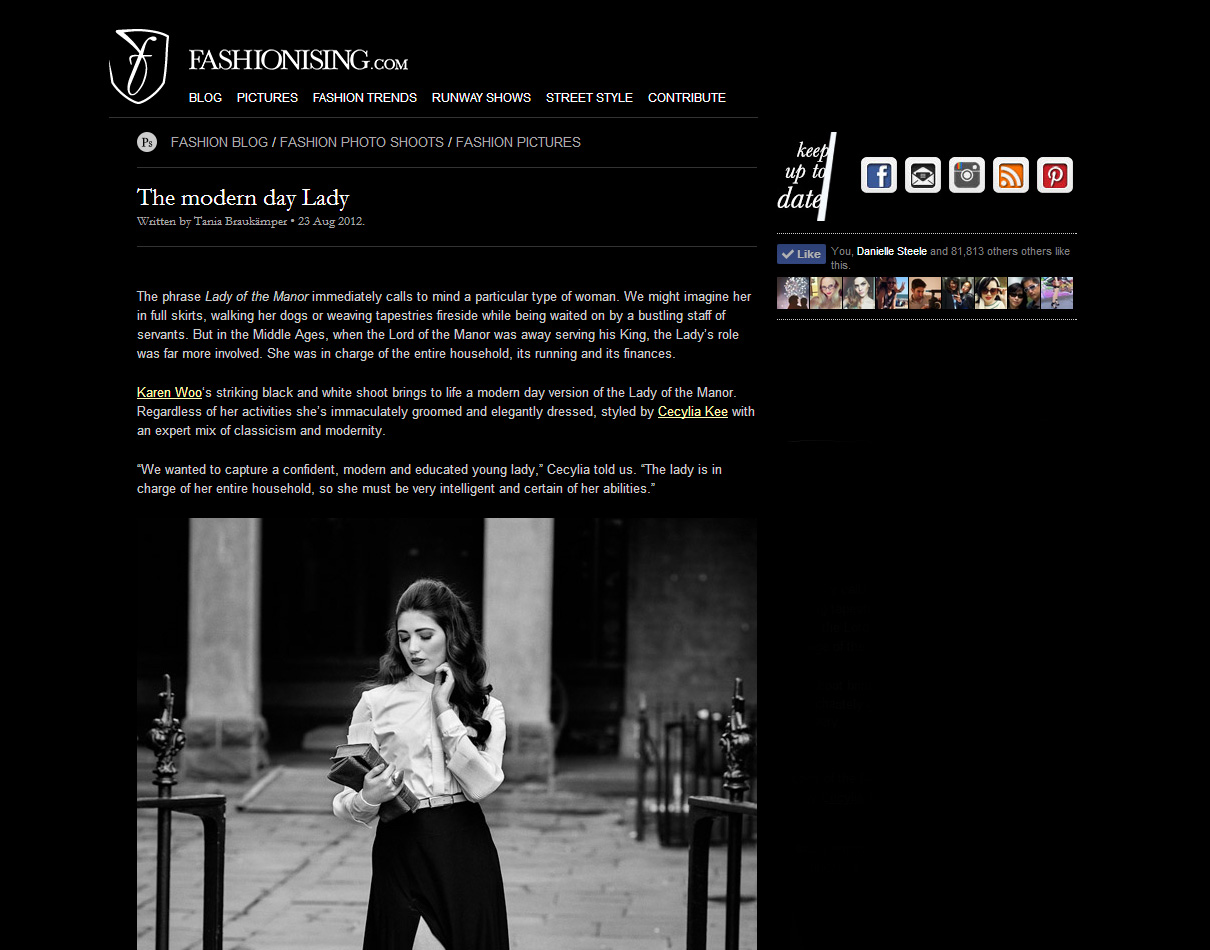 Cosmopolitan Australia (March Issue 2014)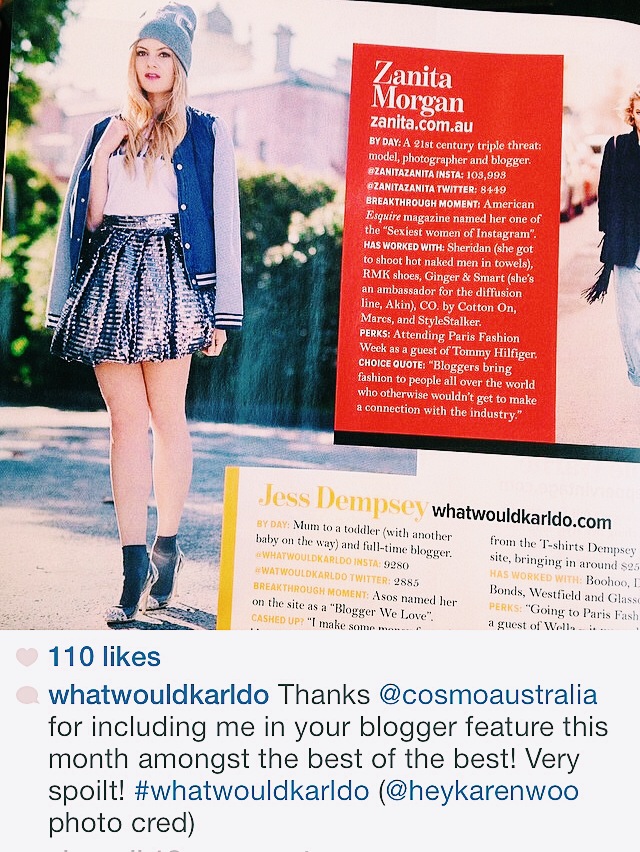 Famous Magazine (October Style Issue 2013)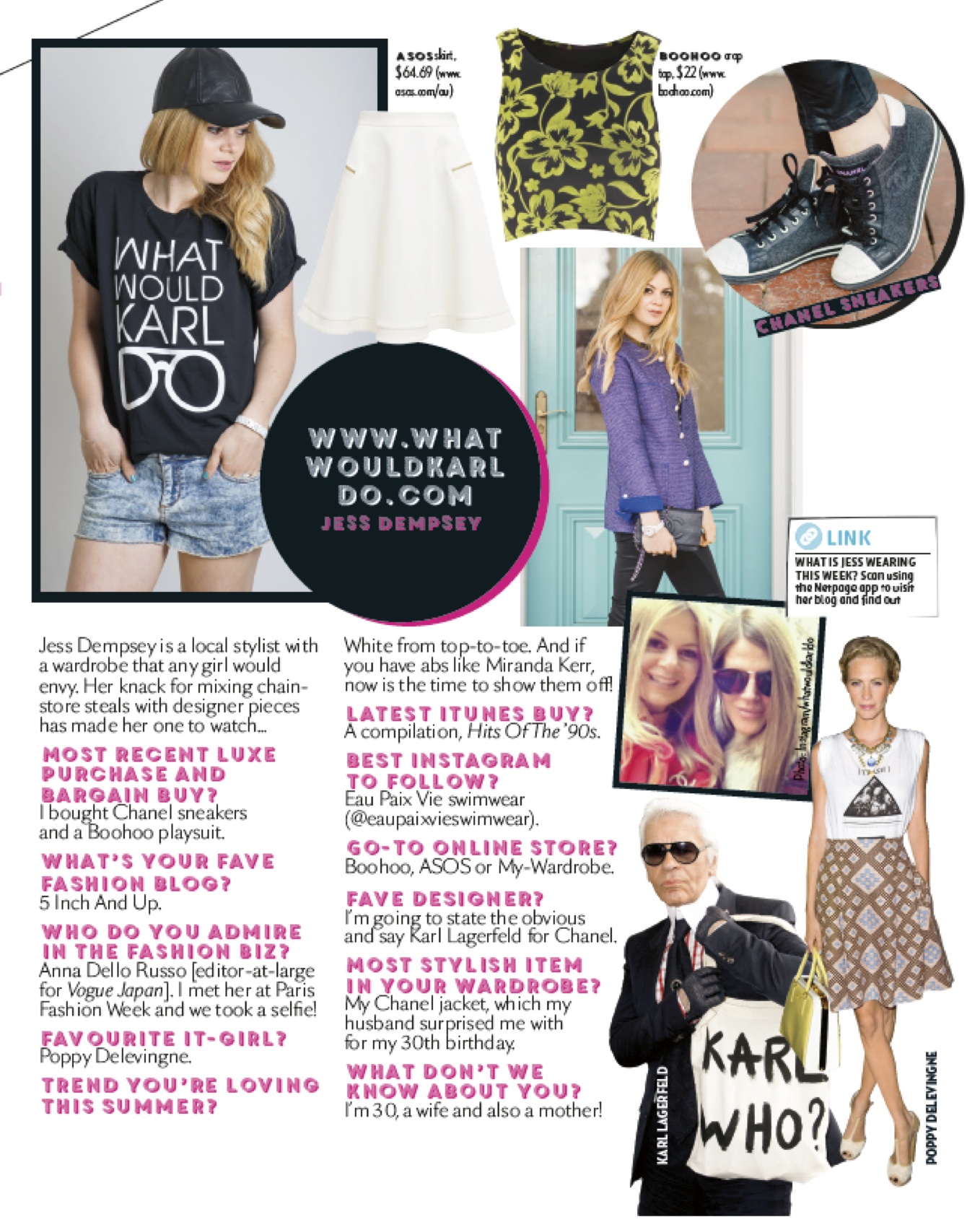 Bonds & Me blogsite (15th of August 2013)
Full post here:  http://blog.bonds.com.au/style/the-bonds-edit-what-would-karl-do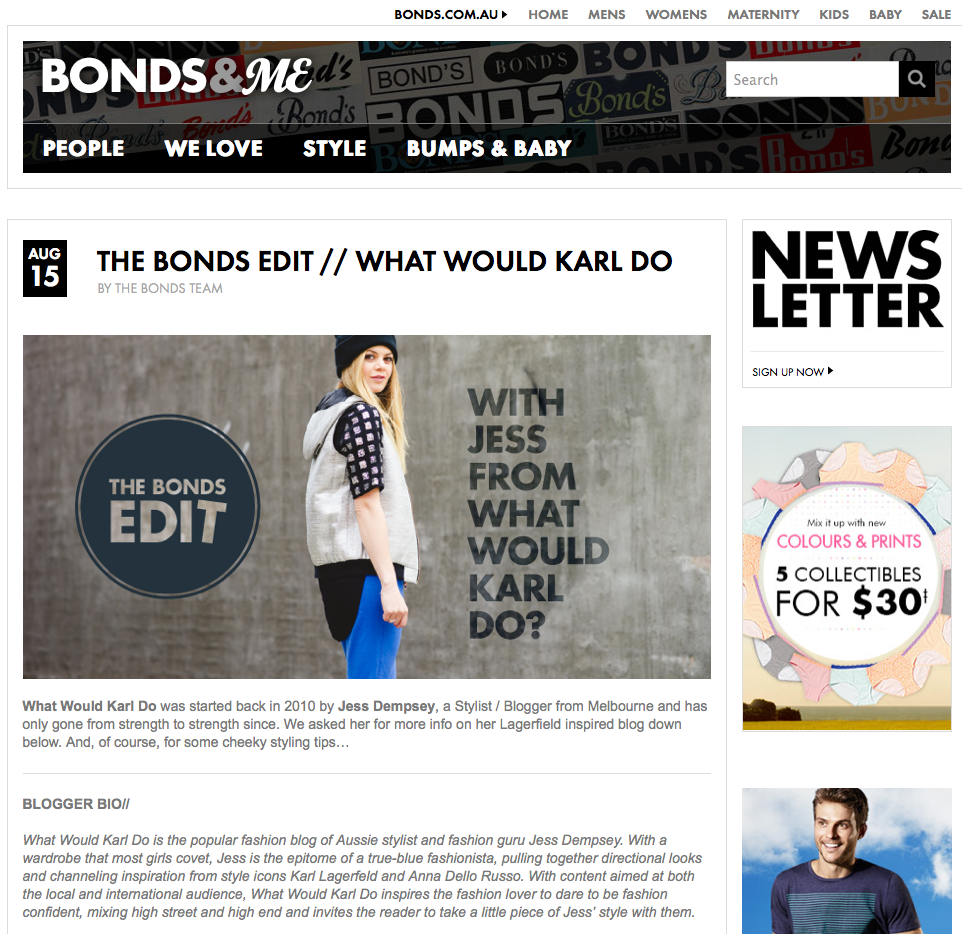 Werribee Plaza (July 2014)
Covet Magazine (Autumn Issue 2013)
Full post here:  http://covetmagazine.com.au/the-magazine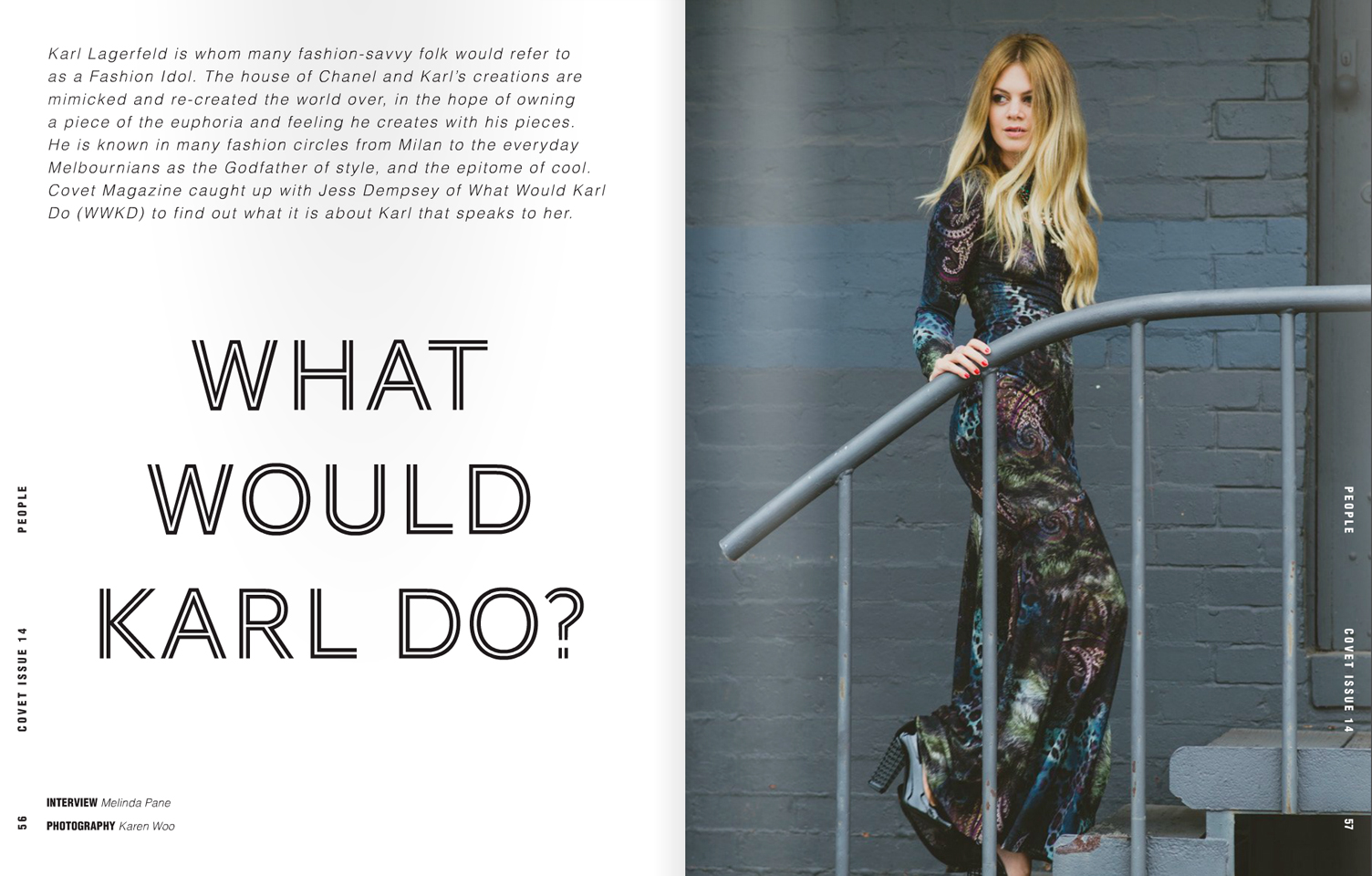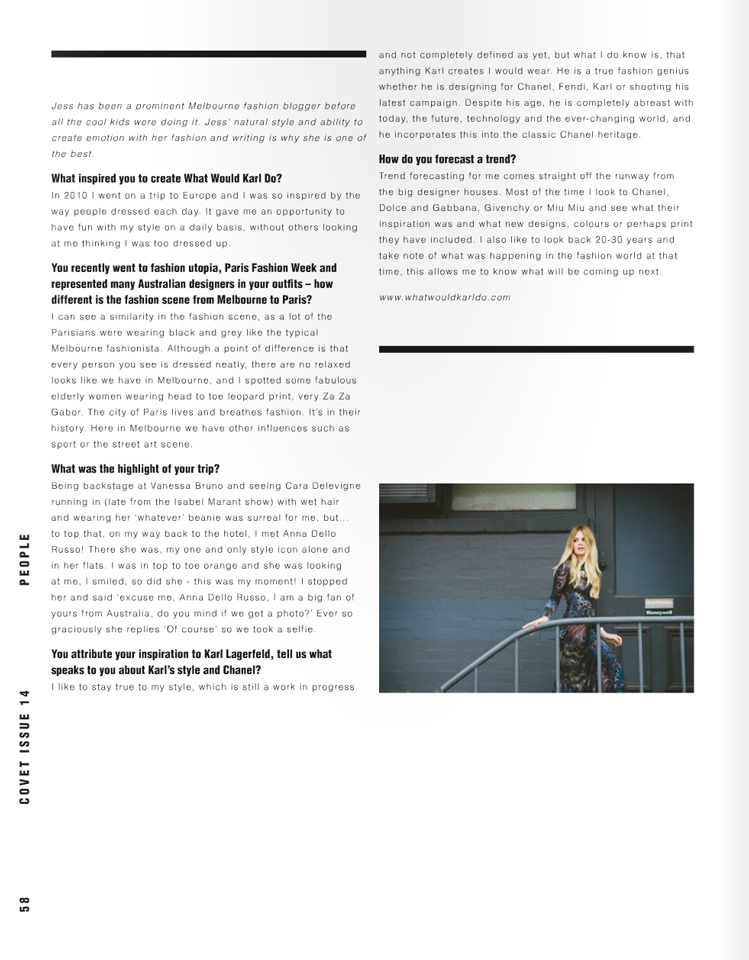 The Glitz & Glam editorial shoot as featured in cecylia.com (20th May 2013)