Have you ever found yourself questioning if you're WORTHY ENOUGH to be an expert in your field?
Let me share a recent personal experience that you might relate to. I once took a leap of faith to quit my IT consulting job to pursue my photography dreams. Despite having invested in short courses, training, and coaching to build my photography brand, I still found myself grappling with occasional imposter syndrome. It seemed irrational, considering the effort I had dedicated to honing my skills. However, the feeling intensified when I contemplated stepping into ad agency land, longing to push my boundaries and test my abilities even further.
Therefore, late last year a LinkedIn ad caught my eye. It was about the M&C Saatchi Group AUNZ Open House program— a crash course into all aspects of advertising. Since I've been contemplating what an Ad Agency life would be like, this was the perfect opportunity to sign up, and boy I was in for a thrilling ride!
It was during this program that the magic happened. My mission was to write a compelling 10-page anti-vaping campaign pitch for Minderoo Australia. Expose the ugly truths about vaping and empower those 14-25-year-olds (32% of Aussies!) to confidently say "no" to those sneaky vape temptations.
So what are my takeaways from this assignment?
1. Get the facts: To nail the campaign, I dove deep into the minds of 14-24-year-old vapers. I became a vape-buster investigator, scouring news articles, and research papers, and even indulging in science podcasts and YouTube videos. Armed with this knowledge, I unveiled a killer insight: "Sweet flavours can suck you into believing that it's safe to inhale."
2. Ideation and Refinement: I sketched and doodled countless ideas, found creative inspirations, and conceptualised the story. I finally landed on the idea of using bright pastel colours and teen-like screaming sound effects to heighten the realism and overall viewing experience. This would cut through the usual sombre and dark anti-vaping advertisements we are customed to seeing.
3. One Page to Rule Them All: I channelled my inner wordsmith and condensed the entire creative solution onto a single page. Yup, you heard that right! Clear, concise, and to the point.
4. Storyboards for the Win: Testing my campaign on my super cool 11-year-old son (the ultimate test subject), I created six hand-sketched storyboards. Trust me, if my son got it, then anyone could! Simple and captivating—just how we like it.
5. Amplification through Media Channels: Where are these youths hanging? Suss out all the channels and find the ideal platforms to amplify the anti-vaping awareness message. Since vaping is highly visible and easily accessible online, TikTok, Meta, Snapchat, BVOD and linear TV were the ones I considered.
Proudly to say that my creative pitch for Minderoo's anti-vaping campaign won the judge's heart and became one of the standout achievers amongst other talented students. But wait, there's more! This triumph paved the way for an internship at the M&C Saatchi agency in Melbourne. It's a testament to my unshakable passion for storytelling, unquenchable thirst for knowledge, and unwavering determination to conquer it all!
My journey at the M&C Saatchi agency has been an epic rollercoaster ride, filled with self-discovery, victories, and a whole lot of growth. I met the most incredibly smart and switched-on creatives, and through my love for golf, it was fantastic to connect with fellow colleagues on the green. What was meant to be a two-month internship ended up being 6 months embracing multiple roles, diving into account services, consumer research and insights, and media coordination for a range of clients in Australian retail, food & beverage, energy, and government sectors. I even had the chance to manage and utilise my filmmaking and production skills which was a win!
Needless to say, I'm grateful to my brilliant colleagues at M&C Saatchi Group for generously imparting their knowledge and skills to me. This experience has certainly helped me master my visual storytelling skills and fueled my desire to enter the media and advertising industry.
So what's the moral of the story?
I hope my story serves as a source of inspiration for you. If you ever find yourself questioning your worth, pursue those wild aspirations unapologetically without caving into negative thoughts. Seize every opportunity that allows you to unleash your strengths and unlock your true potential. Believe in yourself, step out of your comfort zone, and let your journey of self-discovery lead you to remarkable heights.
If you need advice on your next project, feel free to get in touch today via email to learn how we can create magic together. Excited to hear from you soon!
x Karen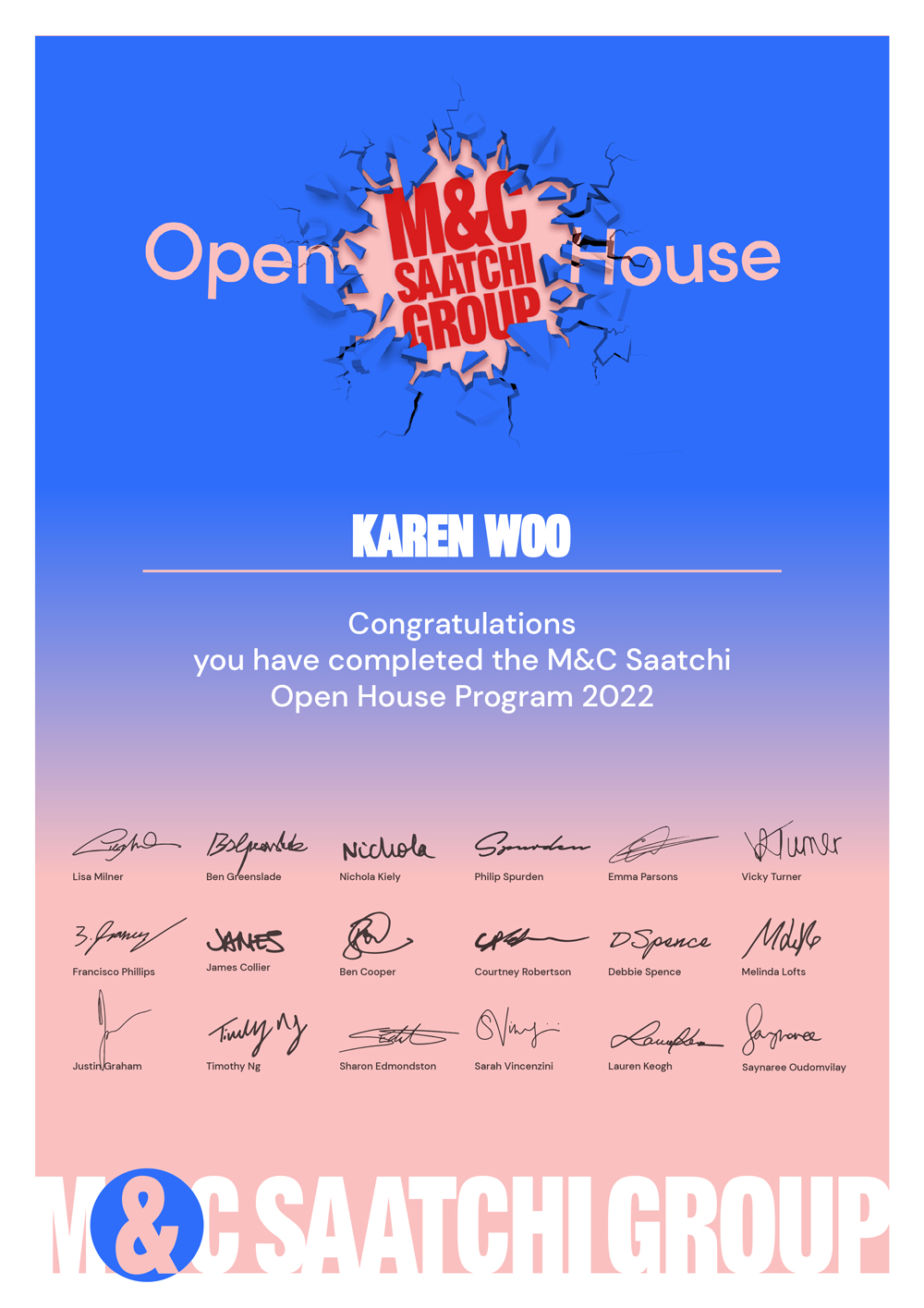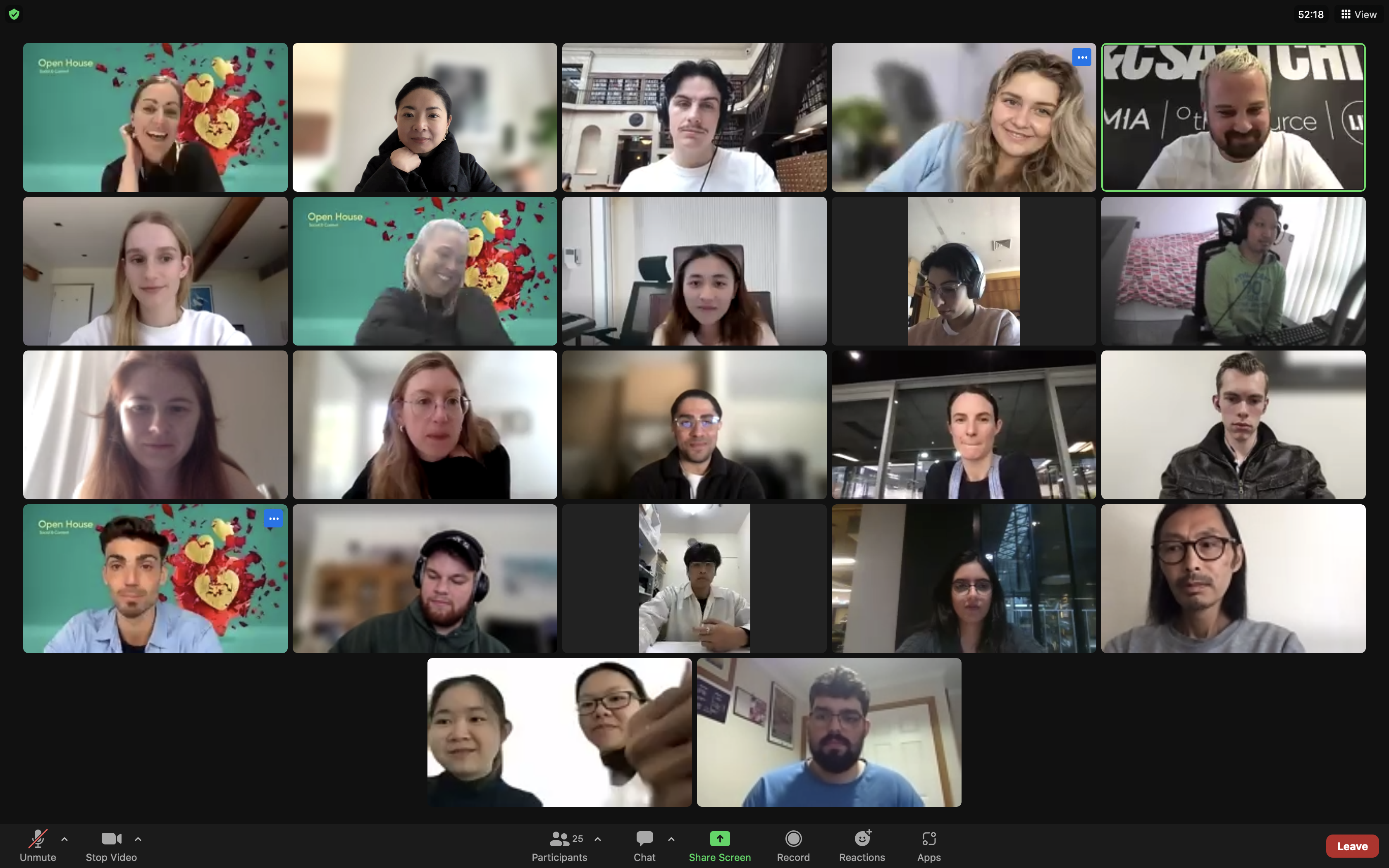 \