words // JERRY HSIEH
street style // KAREN WOO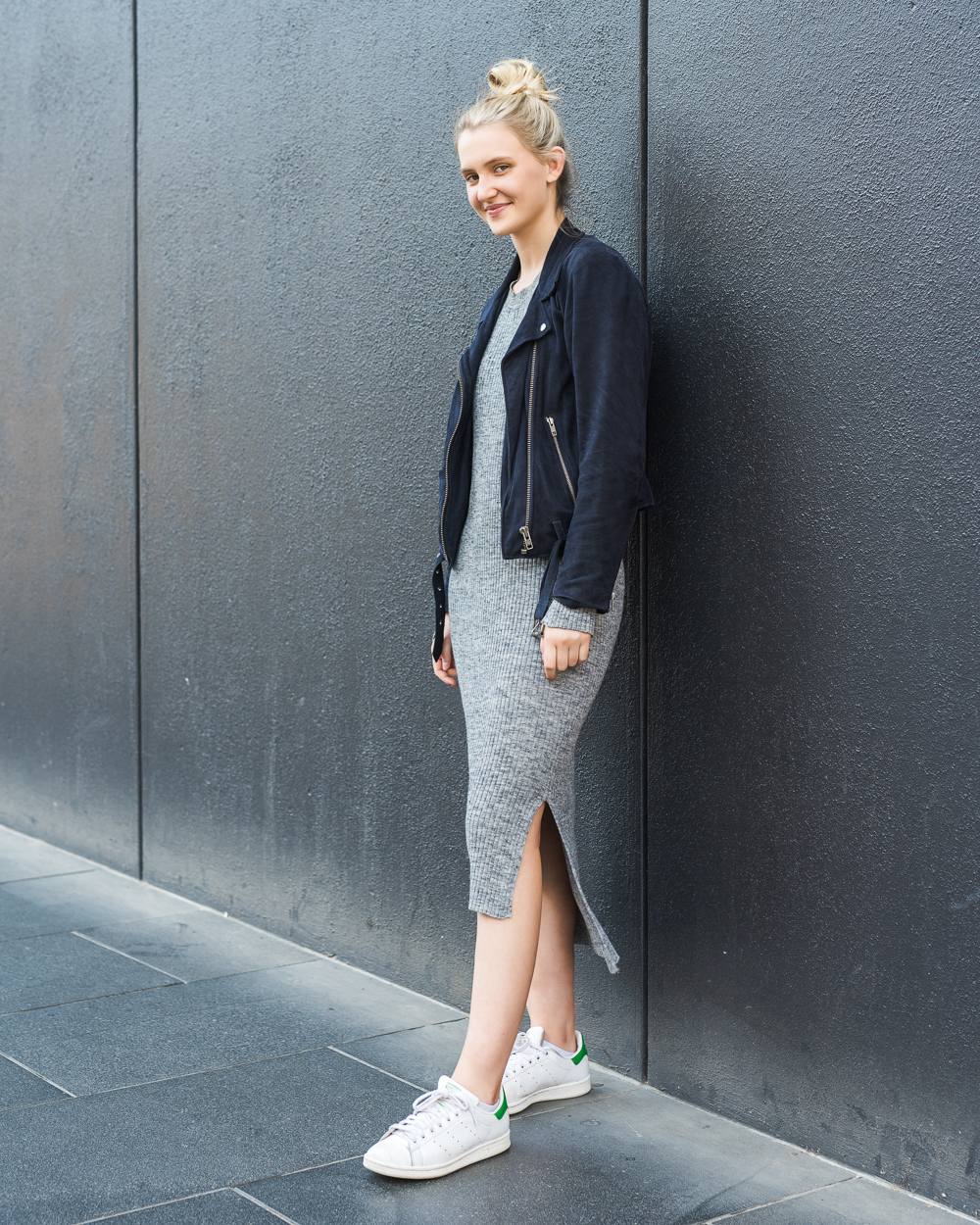 Isobel's effortless look teaches us about the power of staple pieces. Her grey sweater dress and navy suede biker jacket make a winning combo for the colder months ahead and would easily compliment everything else in the wardrobe. The same could be said about her white Stan Smith kicks. A gentle sprinkle of street edge, I say fly.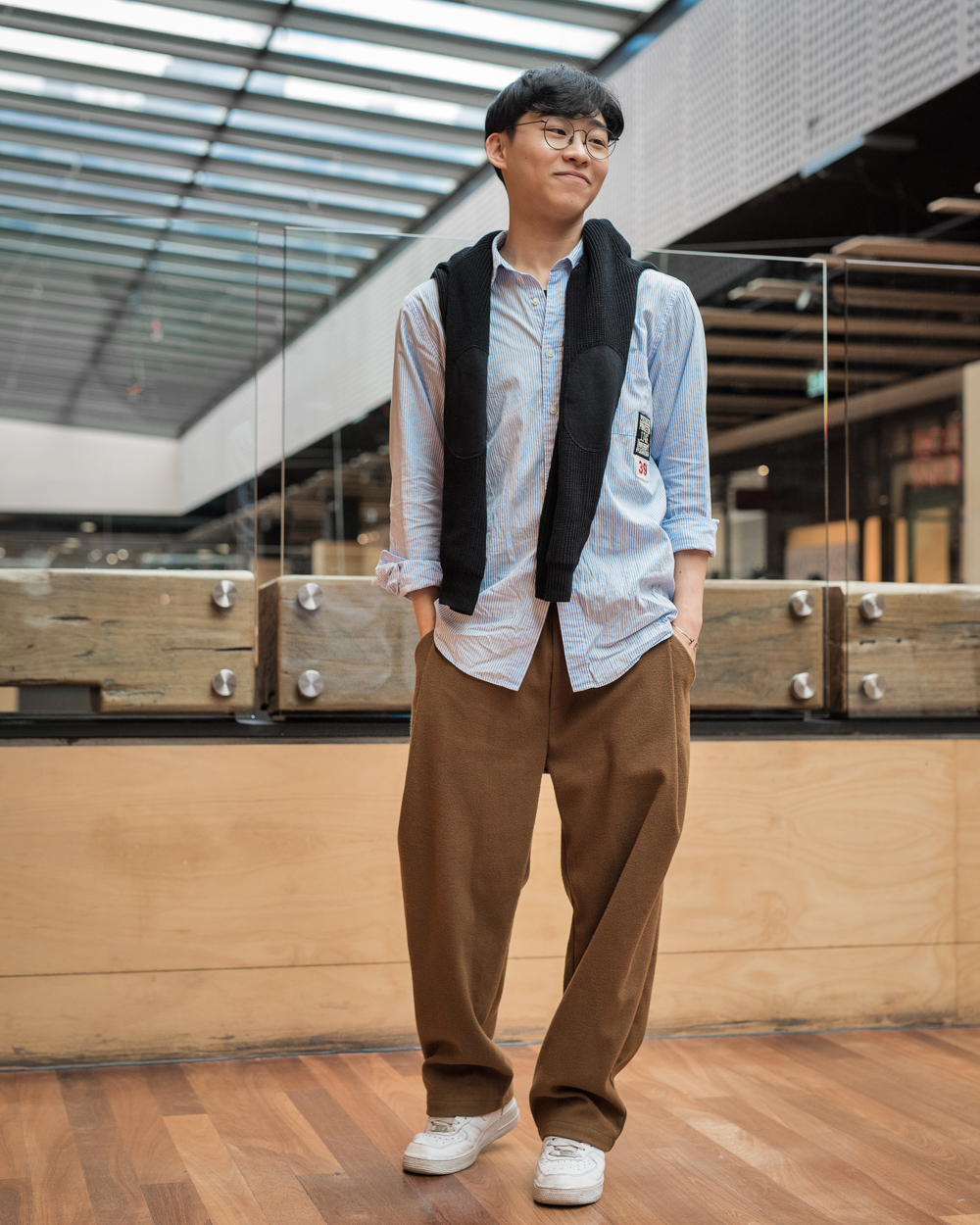 Aiden's outfit embodies the essence of autumn. I was instantly drawn to his relaxed fitting trousers, which turned out to be one of his original creations. Sign me up for a pair please!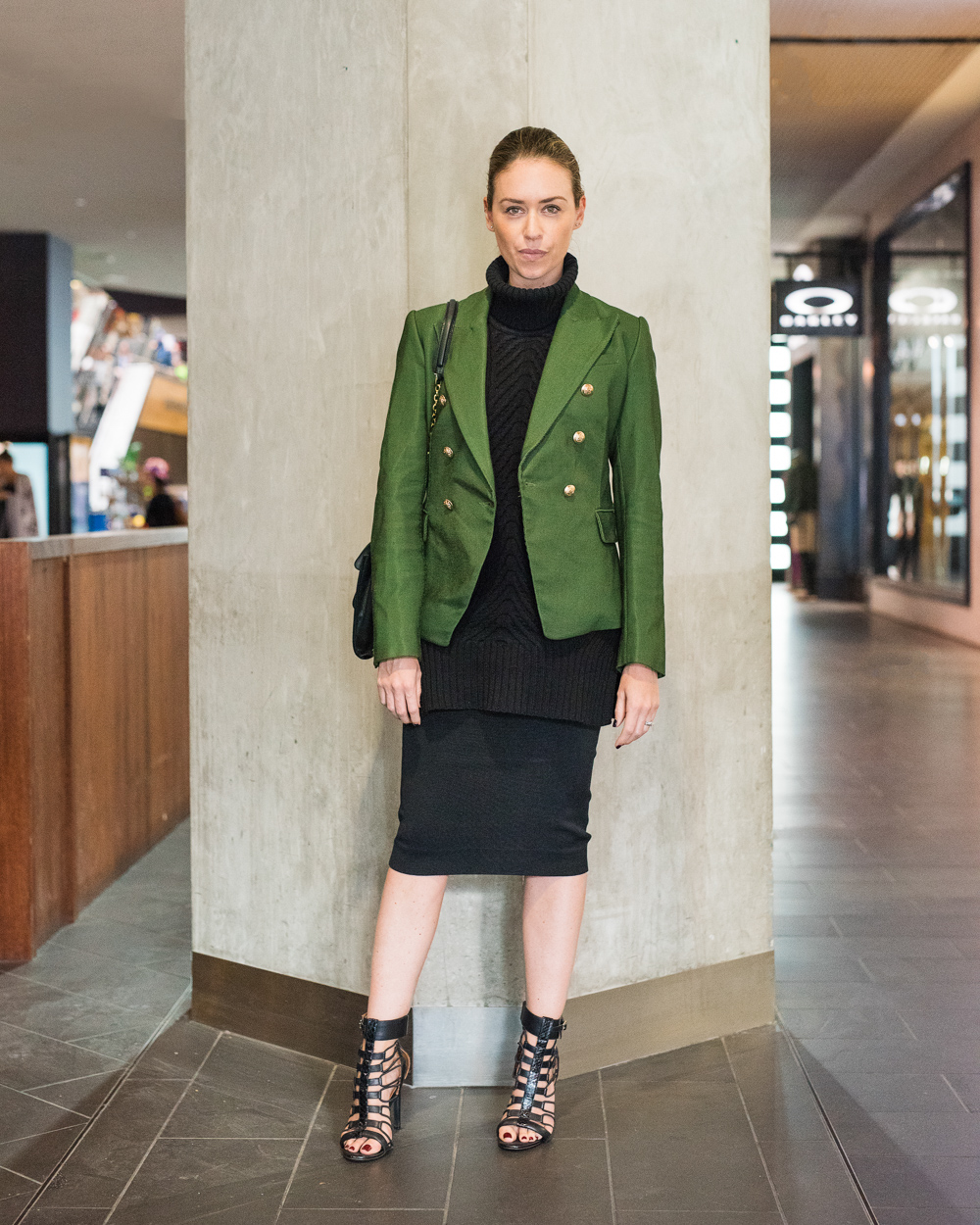 Why stick to standard black or navy get ups when you can look as fly as Olivia in her business attire? She sets the benchmark of dressing for work with her fit that amplifies personality #businesswearinspo. I especially love her chunky, textured knit and green Camilla and Marc blazer. The silhouette of her look is on point to say the least.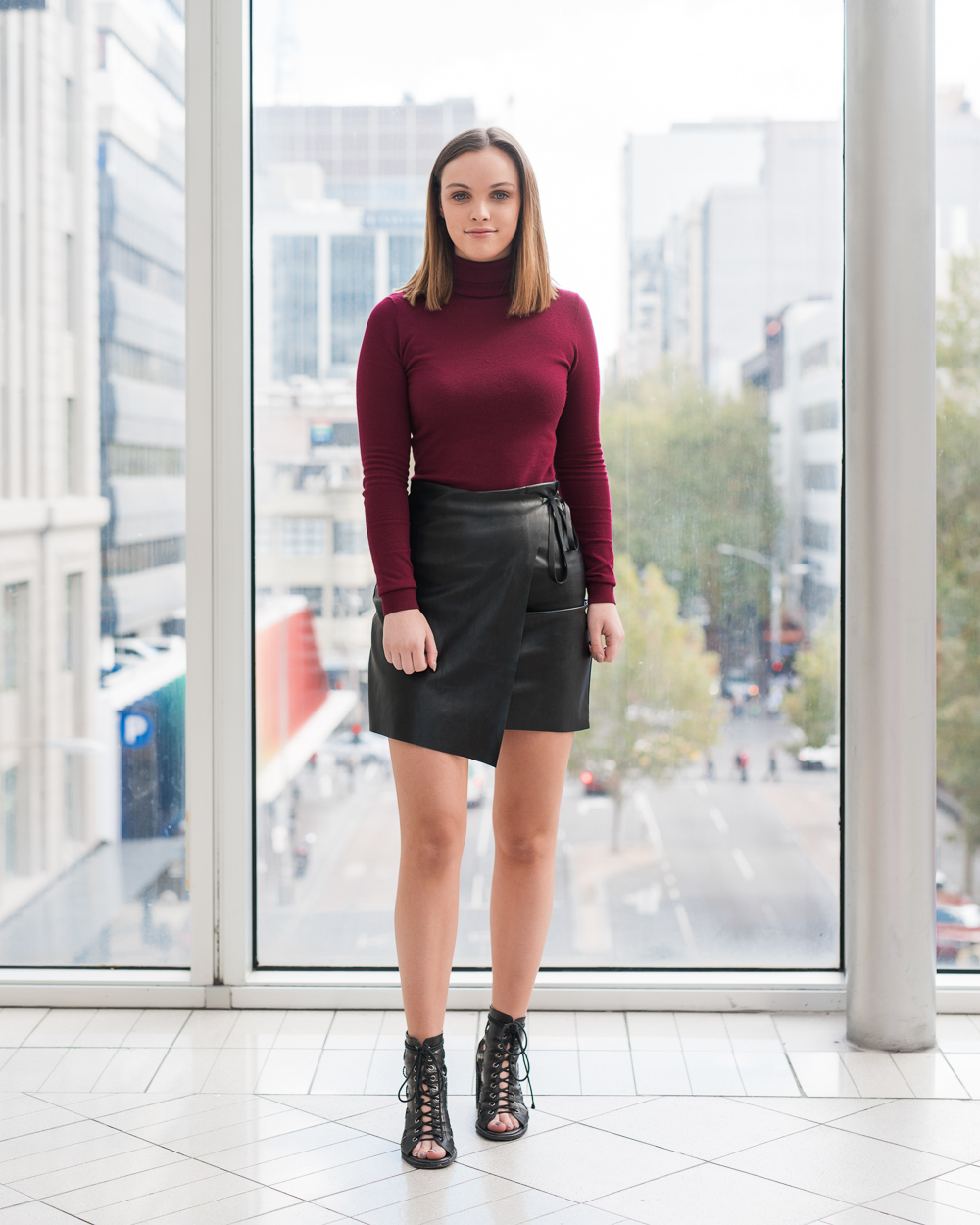 All eyes on Laura as she brings sophistication to the city. Miss dandy long legs shows off her figure tastefully with a fitted burgundy turtleneck and black leather skirt with side tie ribbon detail. Her strappy heels from Mollini add another dimension to her outfit.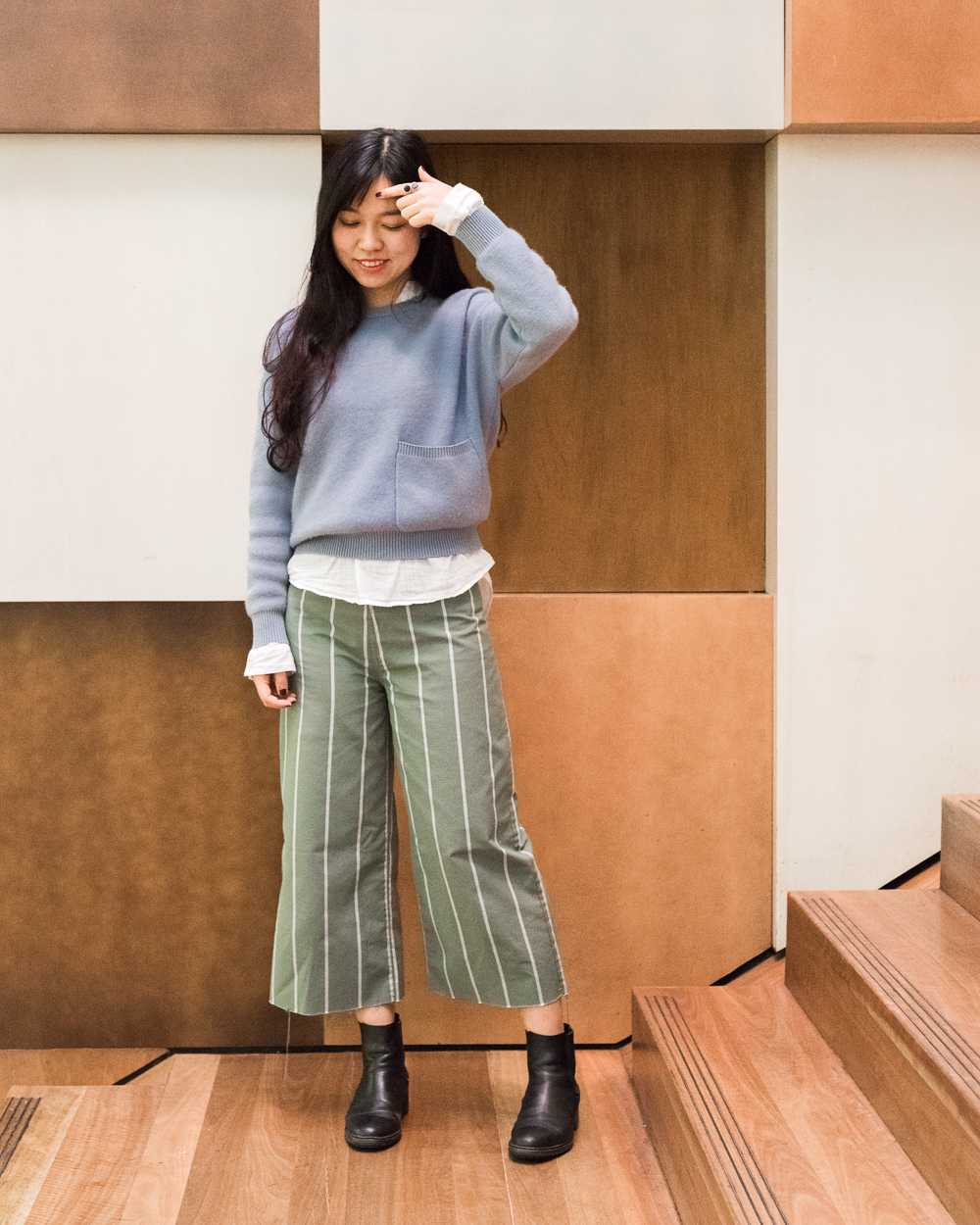 I'm a sucker for pastel and so should you! As autumn leaves pile up on the sidewalks, you will start to notice the colours of Mengyi's casual fit on the streets. Her frayed striped pants elevate an otherwise understated look.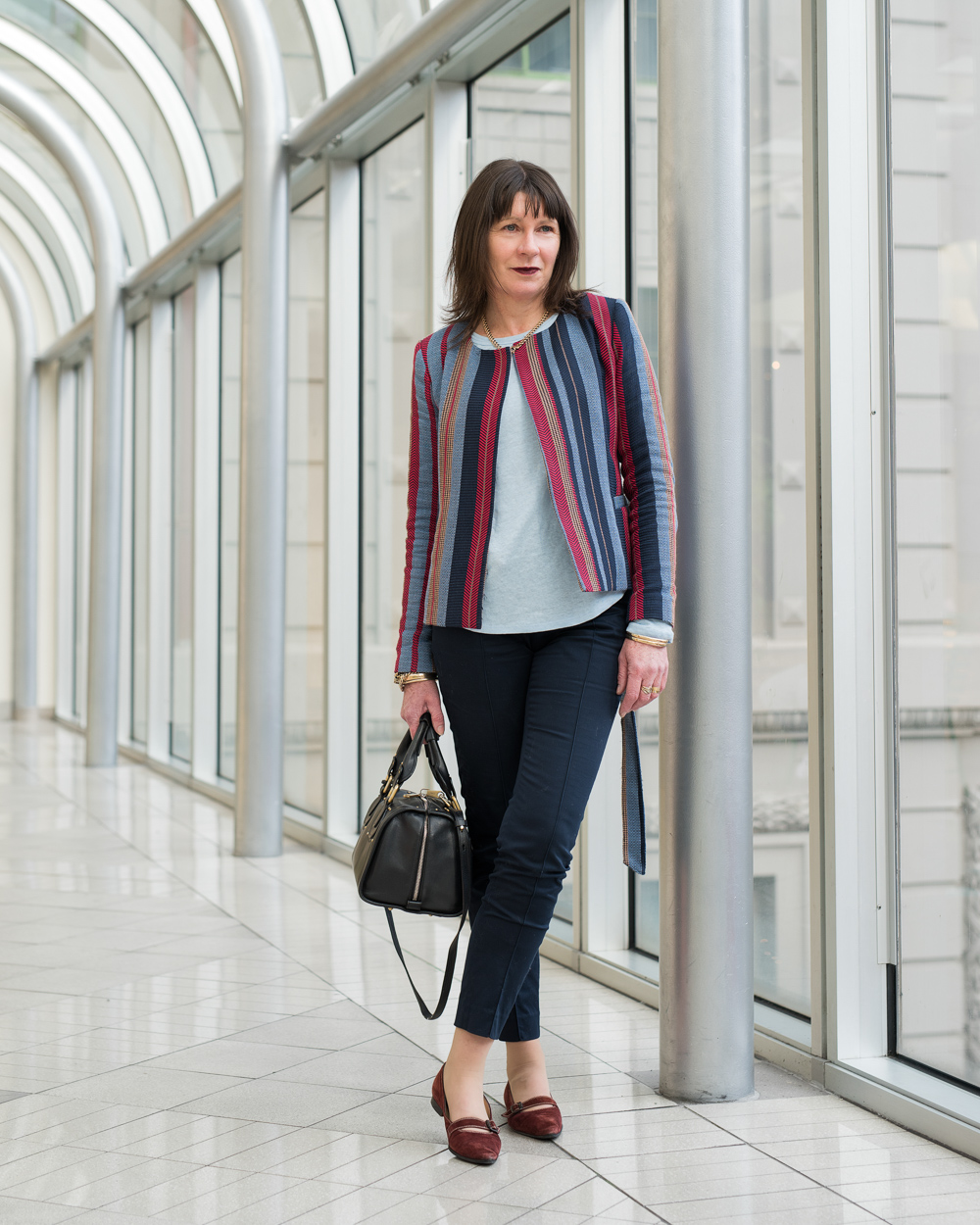 Cathy's elegant ensemble had me singing praises. The colours of her striped jacket are reminiscent of a painted canvas and blend harmoniously with her maroon flats. She finishes her look with a bold lipstick, chunky gold bracelets and a refreshing amount of confidence! Her outfit shows age is irrelevant when it comes to looking good. Being a tastemaker and understanding what works is the key to standing out from the crowd.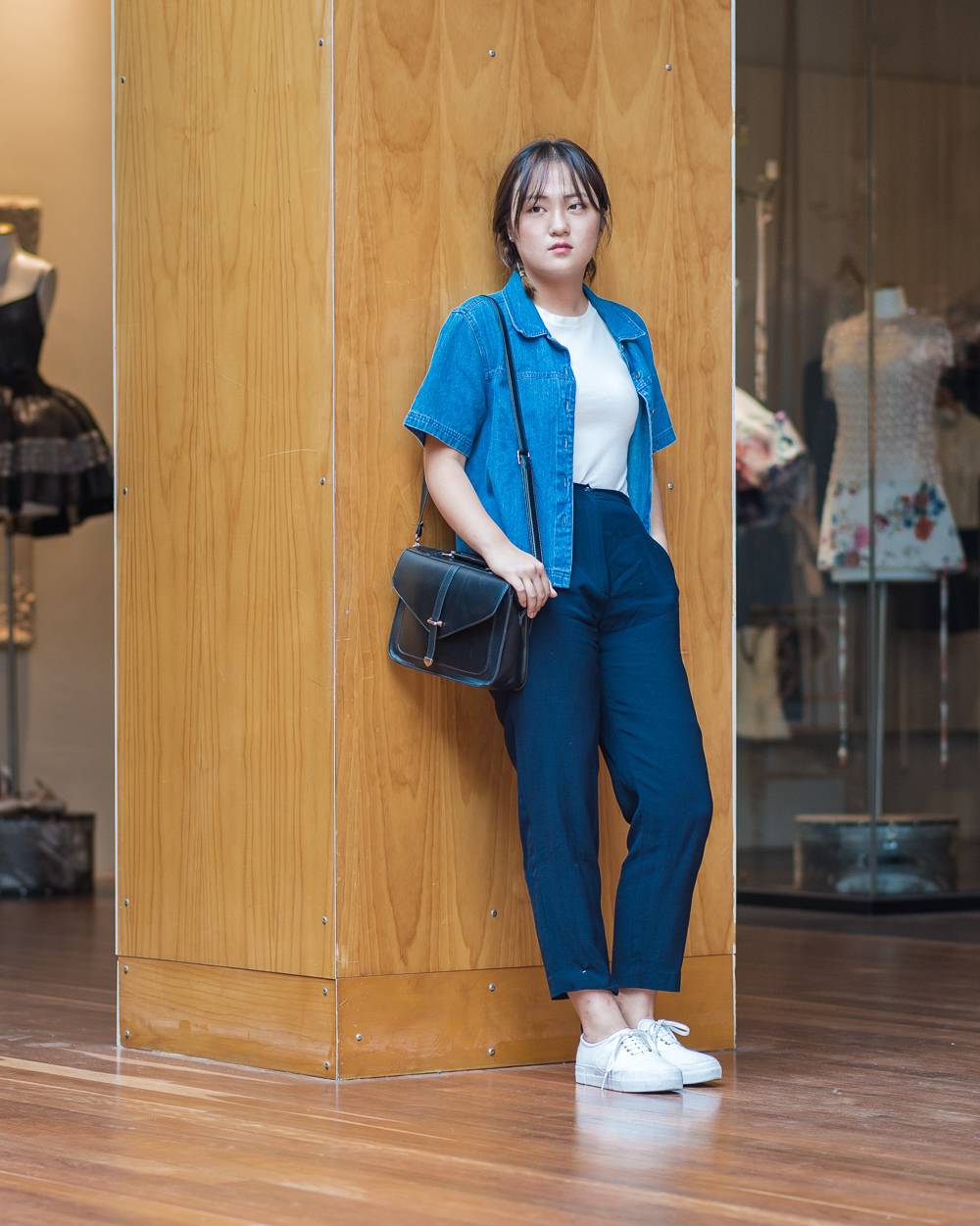 I love the simplicity of her outfit, the contrasting denim textures and blue hues look refreshing against her white under layer and sneakers.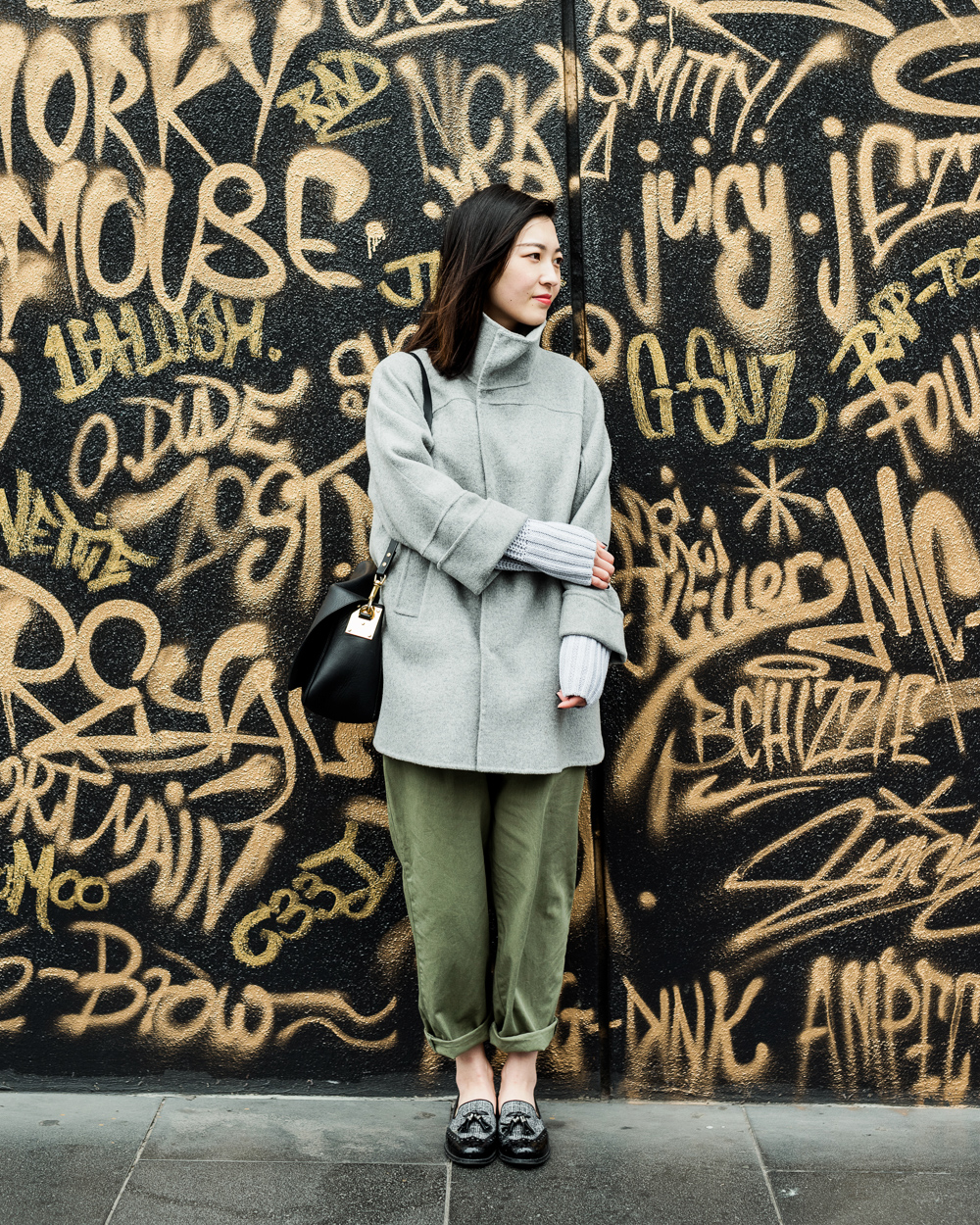 Helen has the layering game down pat. I love the grey knit peaking out underneath her grey coat, which provides a subtle contrast of textures. Helen is also a strategic image sculptor. The funnel neck on her coat helps to elongate the neckline and the cuffing of chinos lends the same effect for her legs.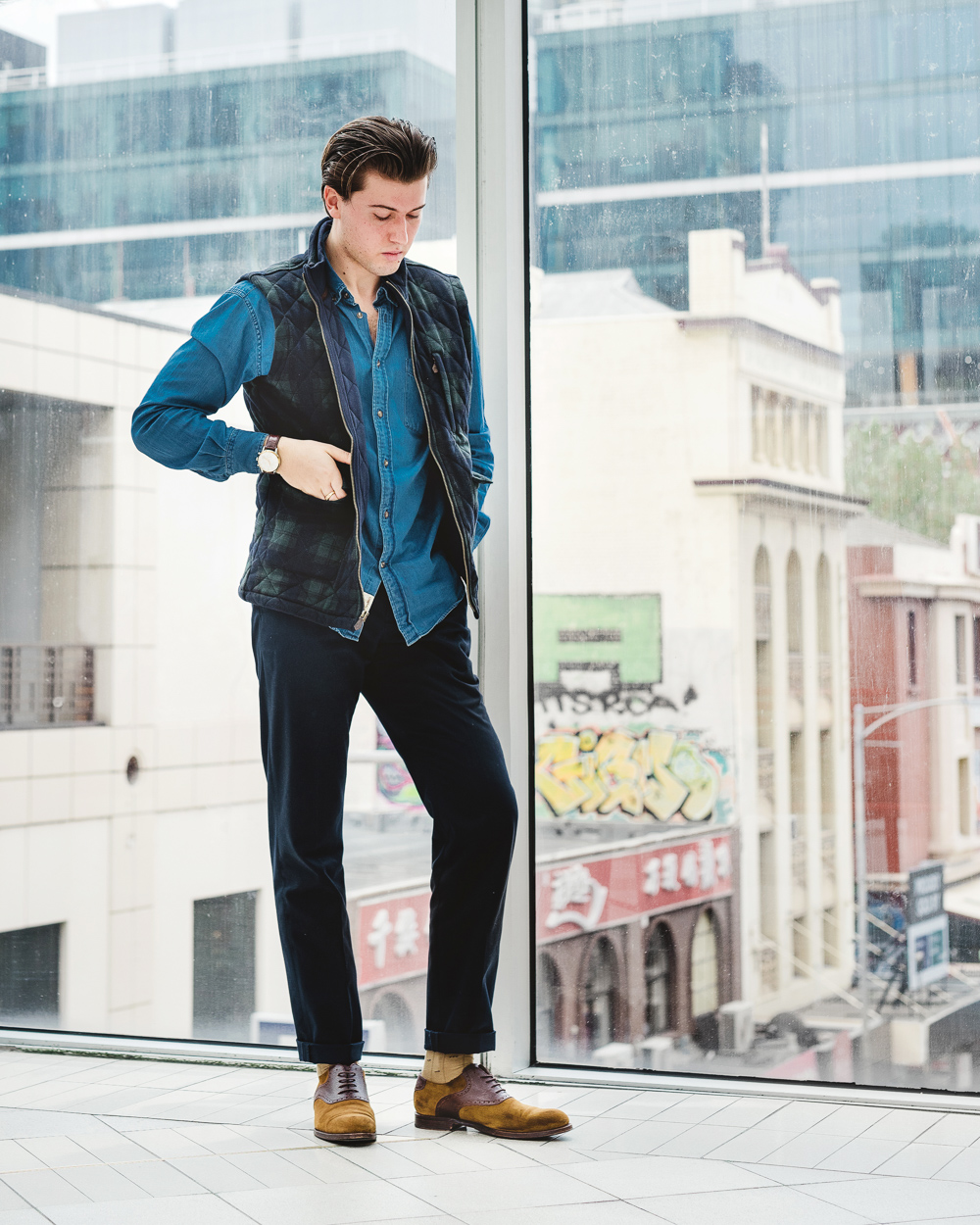 Jackson's fit is not only extremely well put together but also endlessly versatile. Navy and brown are matches made in heaven. His quilted navy vest and brown Christian Kimber saddle shoes make a formidable fashion statement.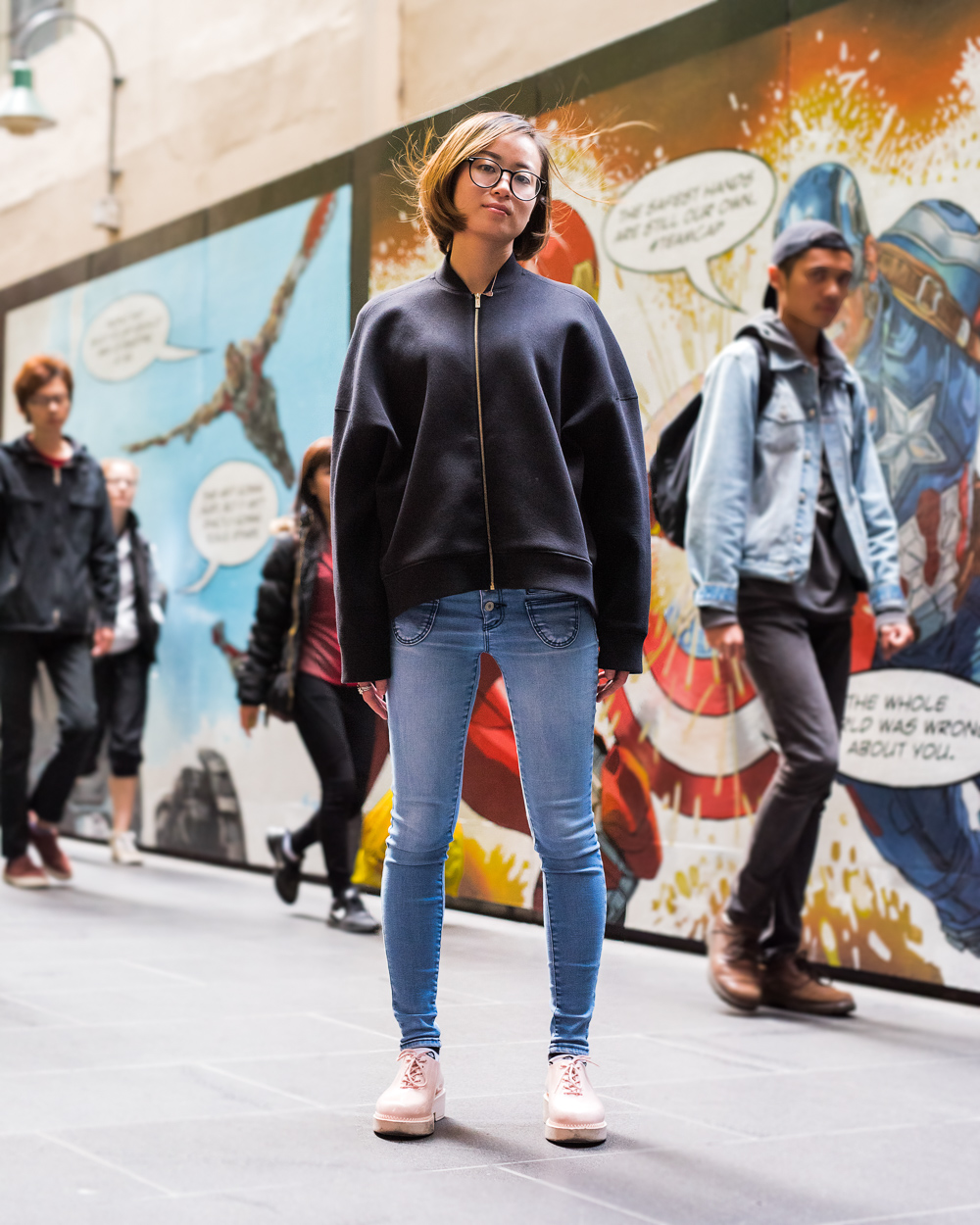 Jing Jing oozes swagger in her oversized cotton bomber, skinny jeans and pale pink Melisa platforms. The silhouette of her bomber provides a nice point of difference to the same old bombers you see on the streets. Standing tall and feeling good, that's a mantra everyone should have.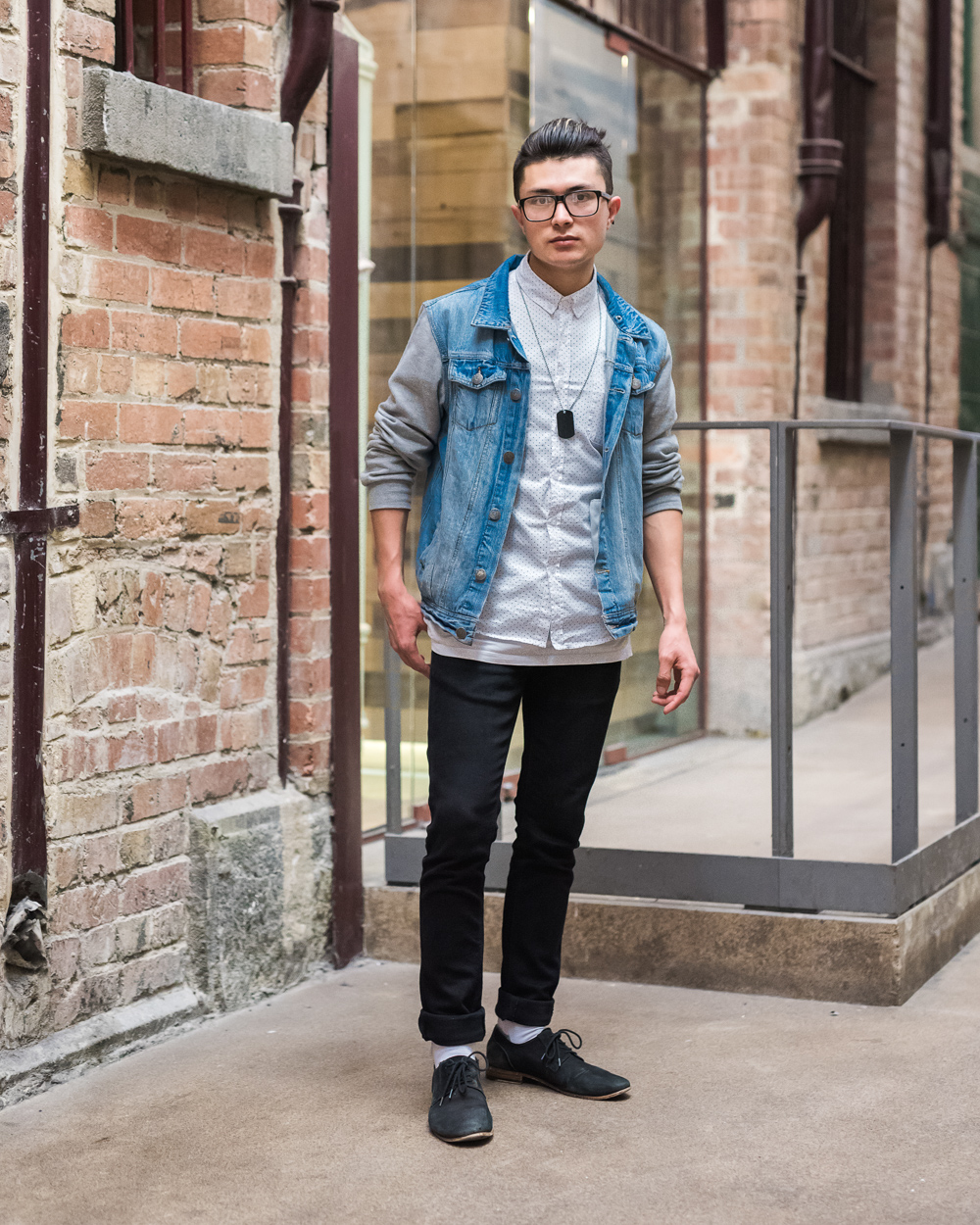 There is a variety of ways to spice up your autumn winter get ups. This season, keep things interesting with non-standard, textured and patterned pieces. David's spotty white shirt and denim jacket with contrast fleece sleeves would certainly do the trick.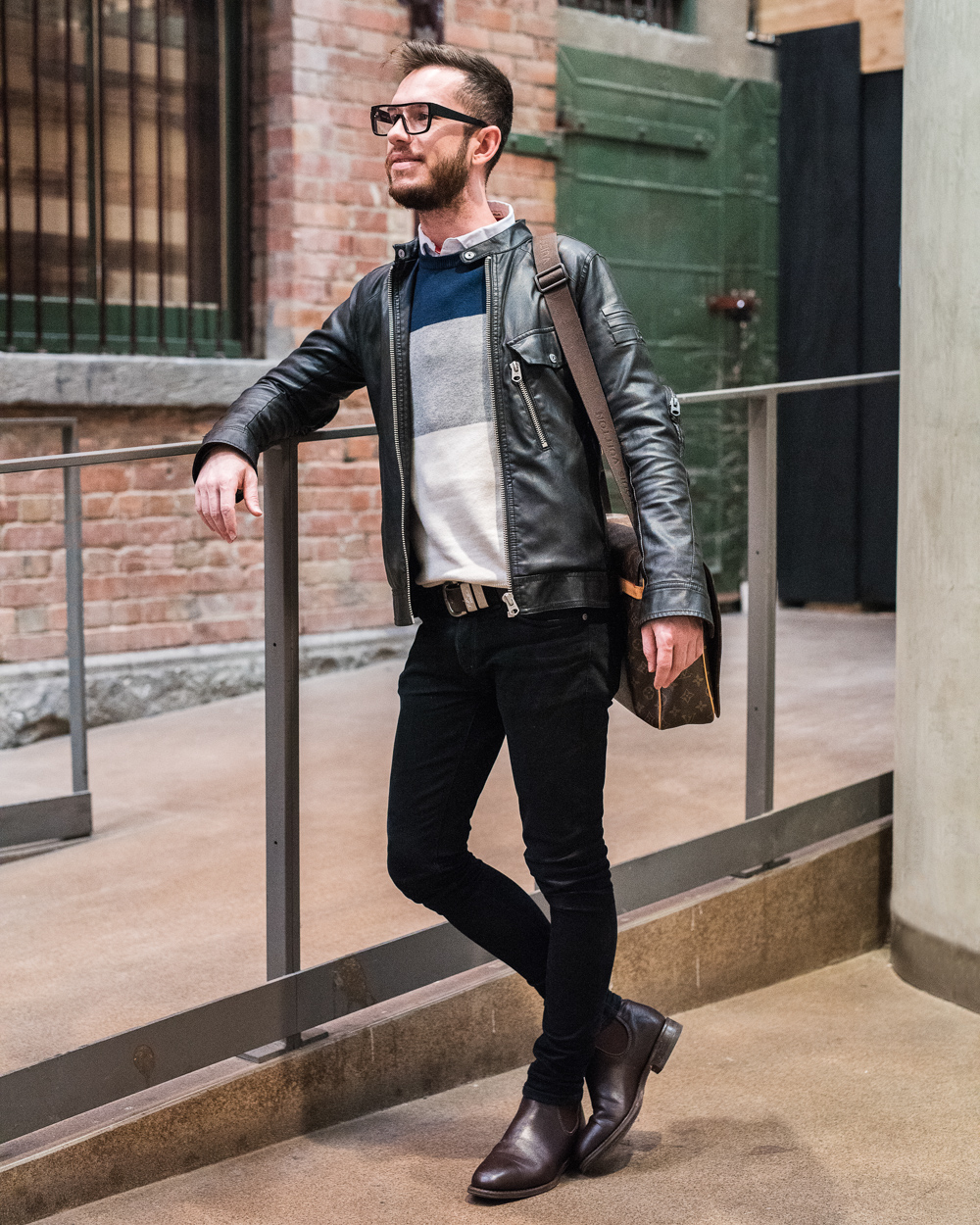 Dean was on his way to a job interview when I pulled him aside for a snap. Is it too early for celebratory drinks? I have a feeling he's no stranger to making good impressions. The leather jacket is a nice touch and his stylish pair of frames calls for constant eye contact.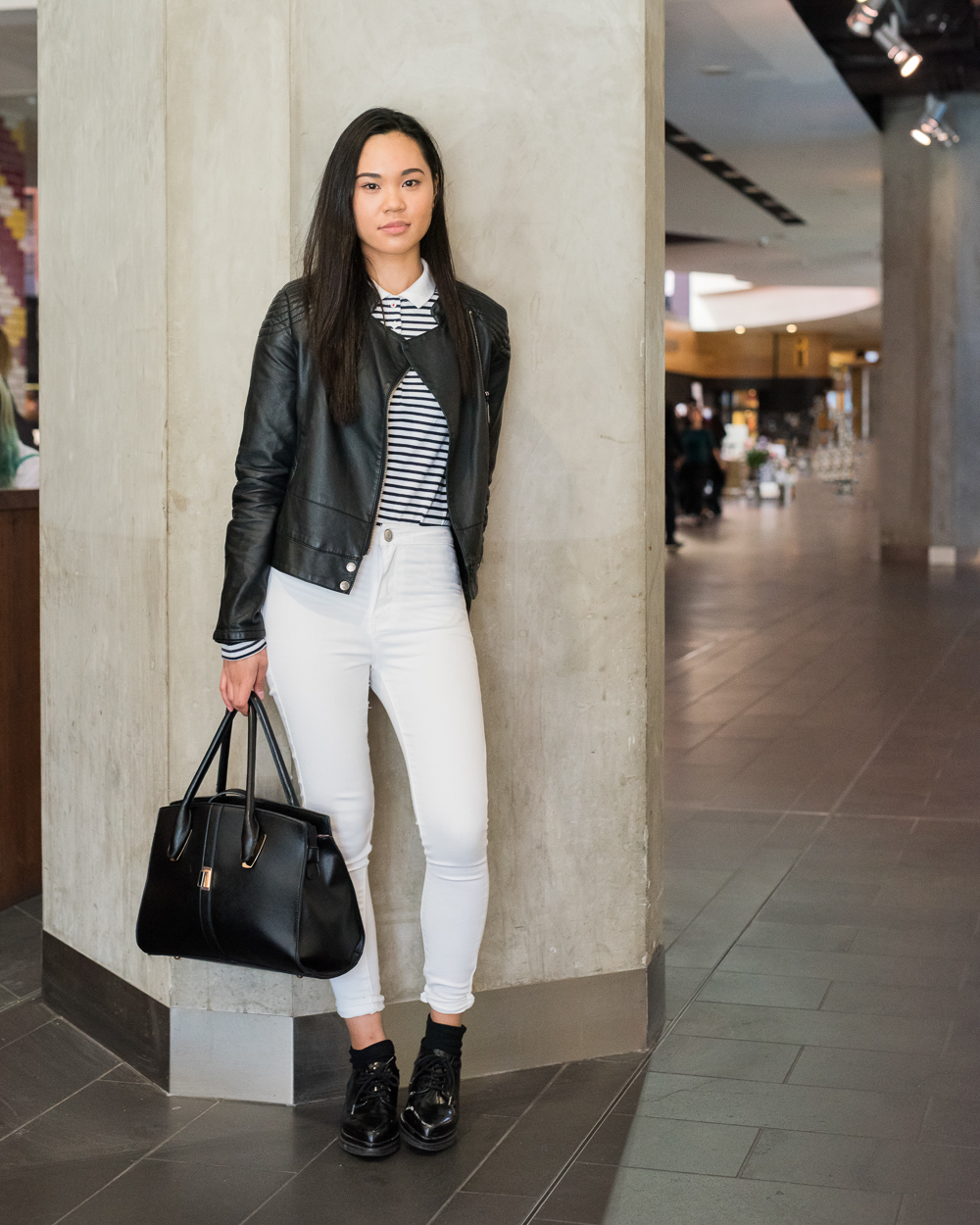 Karina is an undisguised master of switch ups. Her pairing of classic pieces such as the striped polo and white denim pants with edgier threads such as the leather wrap and pointy platform derbys create an interesting point of view. Let's call this one the rockstar on a cruise.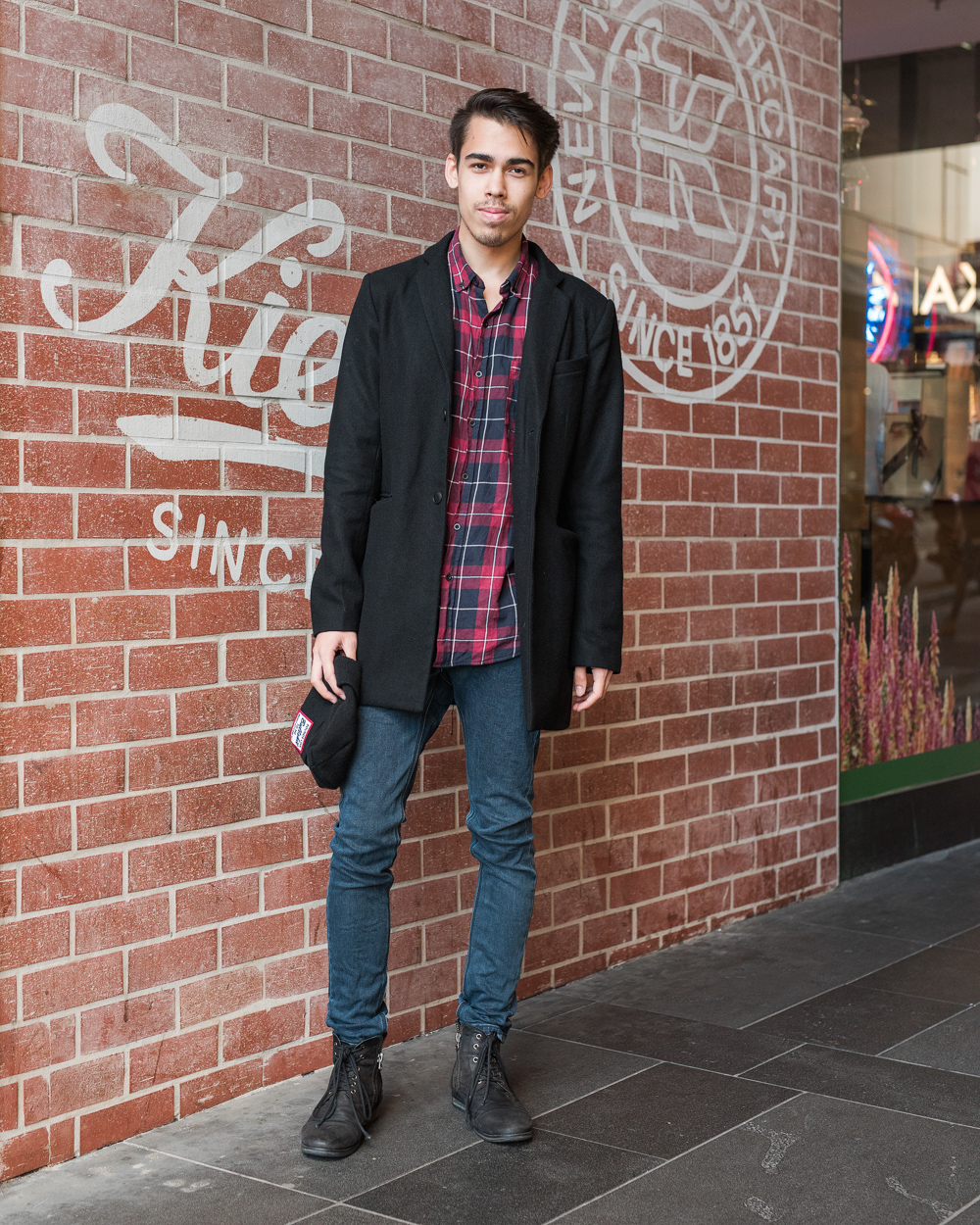 Ian stays easy in his everyday street look. As the temperature begins to drop, make sure you snatch up a versatile coat like Ian's black one so you can brace the cold. I also like a good checkered shirt, it is my go to for lazy Sunday hangs.